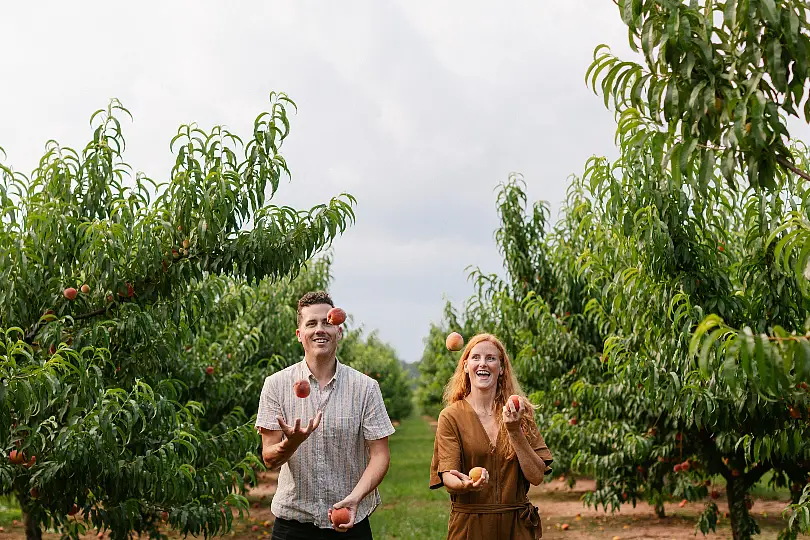 Nashville has come to love The Peach Truck, a staple in Middle Tennessee for ten years, offering succulent fresh peaches and more. The business has grown since its humble beginnings, now shipping to 24 states, offering not only their famed peaches, but other items, including The Peach Truck cookbook, sauces, jams and other items.
To celebrate The Peach Truck's success, and an astonishing 100 million peaches sold, The Peach Truck will launch Peach Week, taking place July 25 to 31, with surprises at The Peach Truck booths located around Music City, as well as new merchandise, unique menu items from more than 20 food vendors, plus a special party with founders Stephen and Jessica Rose. at imogene + willie, where The Peach Truck began,
The party, held on Sunday, July 31st from 12:00 PM to 4:00 PM, will include The Peach Truck's own peaches, plus live music from Thad Cockrell, and refreshments from Desert Door. Additionally, imogene + willie will offer a limited-edition t-shirt, priced at just  $68, to celebrate the milestone. The limited-edition t-shirts are currently available for pre-order on The Peach Truck website.
The Peach Truck began thanks to Stephen's craving of the peaches he grew up eating in his home state of Georgia. After purchasing a '64 Jeep Gladiator, Stephen and Jessica decided to provide the peaches he loved in Georgia, to his new hometown of Nashville, and The Peach Truck was born.
"In 2012, we partnered with Stephen's hometown farm and loaded up the Gladiator with hand-picked, just-off-the-tree peaches," the couple recalls on ThePeachTruck.com. "Our community quickly shared in our passion and ate 10 tons of our brown-bagged peaches in just five weeks! Our family grew, and so did The Peach Truck. We discovered just how many of Mother Nature's foods tasted infinitely better with extra care and fast delivery.
"In 2022, because of YOU, we are celebrating our 10th year in business as The Peach Truck," they continue. "You can now find our products in 60+ booths across Nashville, 25 state tours, or at your front door with nationwide shipping. We invite you to experience the difference of freshness and share in the joy!"
In honor of their decade in business, The Peach Truck also embarked on a summer tour as well. See a list of Nashville restaurants participating in Peach Week below. Find more information at ThePeachTruck.com.
Restaurants participating in Peach Week:
5 Daughters Bakery
Burger Up (12 South)
Butcher and Bee
Caity Pies
Caliper Coffee Co.
City House
Culture + Co.
East Park Coffee & Donuts
East Side Banh Mi
Edley's Bar-B-Que (Nashville + Chattanooga Locations)
Flora & Fauna Nashville
Franklin Bakehouse
Frothy Monkey (12 South, Franklin, Downtown)
Fryce Cream
Host & Toast Luxury Concierge
Margot
The Continental
Turnip Truck (East Nashville, West Nashville, The Gulch)
Walker Brothers Kombucha