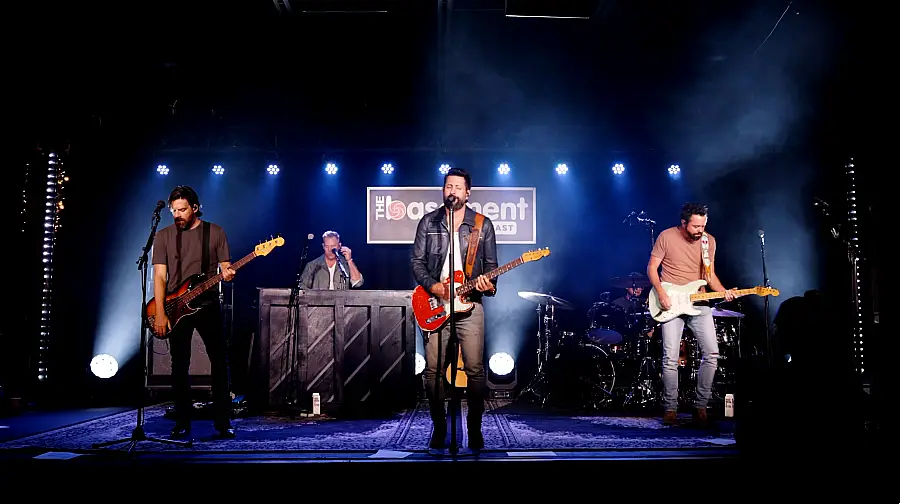 Old Dominion's Time, Tequila & Therapy album is out! The 13-track record includes one collaboration — with music legend Gladys Knight — on "Lonely Side of Town," a duet lead singer Matt Ramsey still can't quite believe actualy happened.
"They called her, asked her if she would be into it, and she said, 'Yes,'" Ramsey tells Apple Music Country's Band Van Radio. "She shockingly knew who we were …That was probably the biggest surprise of all is that Gladys Knight knew who we were. We were trying to pump ourselves up. We were like, 'Tell her that we've been Grammy-nominated, and we've won some awards and we have hits and stuff."
Fortunately, Old Dominion didn't have to do much convincing to persuade Knight to join them on the contemplative track.
"She actually knew who we were and agreed to do it," Ramsey reveals. "A lot of people think that our styles of music are pretty different, but when she came in the room, she talked over and over again about how at the heart, her songs are country songs. And when you really listen to them, they really are."
In a separate interview, this time on Apple Music Country's Today's Country with Kelleigh Bannen, Ramsey says that he is still surprised how easy it was to get the 77-year-old to join them on Time, Tequila & Therapy.
"What's crazy is you just ask apparently, because that's all we did," Ramsey says. "I remember the conversation when we were talking about it. We were standing in the hallway at the studio because we found out—we were in Asheville making this album—and we found out that she lives there. We came up with the idea of her singing on it before we realized that she lived right down the street.
"So we're talking to the studio manager, who knew her, about it, and she was like, 'Yeah, I'm good friends with her and her husband. I can call and ask' … We were like, 'Make sure to tell her that we actually are legitimate. We have hits on the radio and that we've won some awards. We're not just some rinky-dink band,'" he adds. "And so they call and she was like, 'Of course, I don't even need to hear the song. I know these guys. I know their music.' We were in and we were like, 'Oh, oh, okay!'"
Old Dominion had already, providentially, decided to record Time, Tequila & Therapy in Asheville, North Carolina, unaware that Knight also lived there.
"[We] decided that maybe it would be a cool thing to try to get outside of Nashville and make a record somewhere else," Ramsey reflects. "We have all kinds of obligations and responsibilities [in Nashville] and no matter how much you try to separate yourself from that, when you're in Nashville, that's always going to be there. We thought maybe we'd go somewhere else."
"It's such a cool little creative community and there's a great little studio there called Echo Mountain," he conitnues. "They've got a nice little band house for us to hang out in and so we just kind of lived out there for three weeks and did our thing."
Purchase Time, Tequila & Therapy by visiting Old Dominion's website.