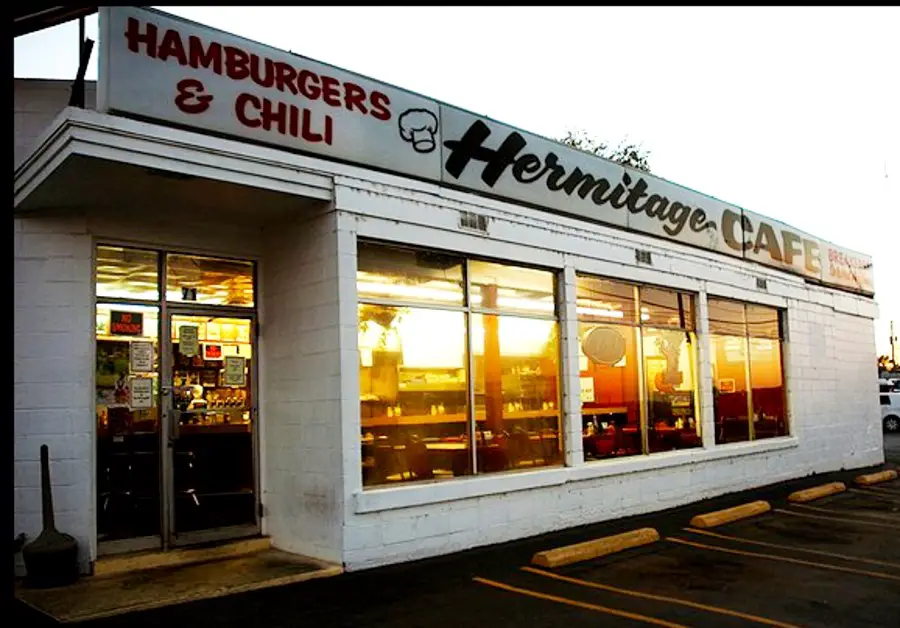 We now know when the historic Hermitage Cafe will permanently close. According to a post shared on social media, the restaurant's last day will be on October 31.
"This is something I hoped I would never have to write, it almost seems like it is not real," owner Sherri Taylor Callahan announces. "It was an amazing 31 almost 32 years. Regretfully, our last day to serve this amazing community will be Halloween night October 31, 2021. We could have not made it this long if it wasn't for the amazing community in Nashville. From the Police force, EMTs, the Fire Hall, Bartenders, Bar backs, starving artists and musician[s], to the ones who finally made it big, news guys waiting on the next story, tourist[s}. people had a few [too] many, to the ones who just wanted to check us out, and most of all the regulars that over the years we have learned your name and your orders. Thank you! We sincerely would have not made it without you."
Callahan goes on to say that the property was sold, before she was even aware that the restaurant would be forced to close.
"Unfortunately, the location was sold without our knowledge," Callahan reveals. "We were not given the option to buy the property, we did not sell out. I am unsure what the new owner's plan for the location is. I just know that the Hermitage Cafe will not be part of their future. I guess that's where 'all good things must come to an end' comes from. With that being said, please go out and support your local mom and pop's. They are unfortunately dying, they are being pushed out. If Covid is not closing these places down, gentrification is. Right now mom and pop's need the community's support more than ever. God knows I had amazing community support for 32 years. Thank you again Nashville."
Callahan closes by thanking the loyal employees, many who have been part of the Hermitage Cafe for many years.
"Lastly, thank all the employees that have been with us," Callahan says. "They have become a second family to us and the many regulars. They are starting a food truck, as soon as I know the details, I will be asking everyone to support them. We wish them the best of luck on their future endeavors. As for our future, you never know more may come…. "
Last week, the news was first announced that the beloved restaurant would soon be closing.
"We know there are some [posts] about the diner closing," a statement posted on social media revealed. "We will give an official statement next week. We were handed the news recently ourselves. So [bear] with us at this time we are trying to handle this news ourselves. Thank you."
The news is heartbreaking not only for patrons, but for employees as well.
"It's gone, this is gone I don't know, it's different. Nashville is not Nashville no more. It's totally different," longtime employee Linda Siegrist told WKRNat the time. "We were going to get another place, but we can't afford Nashville no more," she adds. "It's just, it's sad."