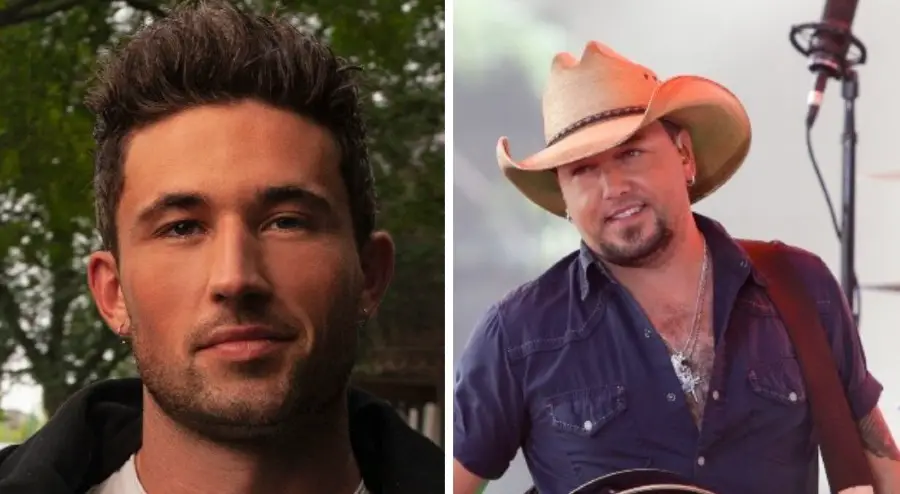 Michael Ray may not write all of the songs on his own albums, but he will happily write songs for other artists. Ray recently revealed on social media that he wrote one of the tracks, "Small Town Small," on Jason Aldean's upcoming Macon, Georgia album.
"Can't tell y'all how excited I am to be a part of writing 'SMALL TOWN SMALL' with a bunch of my buddies," Ray wrote. "Thank you [Jason Aldean] for believing in it bro."
Can't tell y'all how excited I am to be apart of writing "SMALL TOWN SMALL" with a bunch of my buddies. Thank you @Jason_Aldean for believing in it bro. #macon https://t.co/dwzMychTVg

— Michael Ray (@Michaelraymusic) October 9, 2021
In a video shared about the new album, Aldean said naming the album after his hometown made the most sense to him.
"I kind of always felt like where I grew up and where I was from had such a big impact on me as a person, and a really big impact on music," Aldean says. "Growing up there was a hotbed for music. Otis Redding was from my hometown. The Allman Brothers kind of formed in my hometown. For me I think it definitely shaped my music, and the things that I like to sing about. Me and my friends, we were like every other teenager.
"We'd go out and try to score some beer somewhere, and go ride around … When I started playing music, I found myself kind of going back to those things, and singing about things like that that I grew up doing," he adds. "It's kind of that small town vibe, that always sort of burned into me early on. A lot of that stuff never really left me."
Ray just released his own, deeply personal Higher Education EP, co-writing two of the seven songs on the project.
"It's what I've had in my mind for a long time," Ray tells Everything Nash. "It's truly what I was trying to get out for years. I think if I had to describe it, I would describe it as a touch of the '80s, '90s and early 2000's, mixed with today.  I hear influences from all over. I was raised in that middle ground of Southern rock and classic rock, classic country and '90s country, and you're going to hear a blend of that. It's like, if those two came together, and were on the same record."
Want to be the first to see even more exclusive artist interviews? Click HERE to subscribe to our YouTube channel.