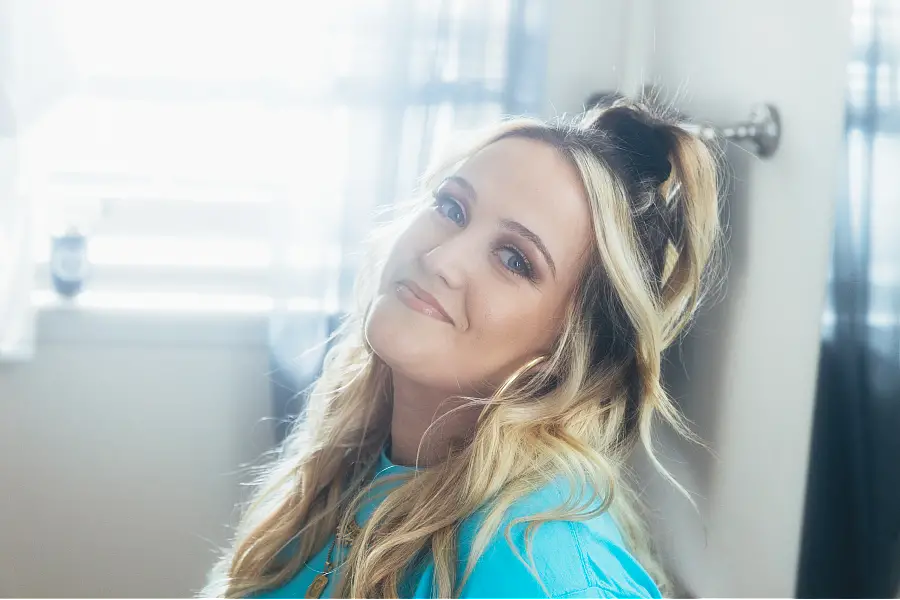 Priscilla Block is unapologetically, refreshingly and wholeheartedly herself. The 26-year-old burst onto the country music scene with blatantly honest songs like "Thick Thighs" and "Just About Over You," gaining an impressive — and still growing — following on TikTok, which helped propel Block's music to country radio.
Block's debut album, Welcome To The Block Party, comes out on February 11. The 12-track record, co-written entirely by Block, is an honest and transparent look at Block and her life so far, and the music she wants to make. In an era where female artists struggle to get their music heard, Block chose to ignore the latest trends and typical subject matter, in favor of showing her fans, and the world, who she really is, in every way.
"I'm so proud of this album," Block tells Everything Nash. "My life is wrapped into these 12 songs, The songs weren't all written just after I signed a record deal. Some of these songs I wrote five years ago, so it's really cool to see them kind of have their moment. Fans that have been with me since the beginning, early days when I was singing at bars, and me pulling them off the street, trying to get them in to listen to my songs, now they're like, 'Oh my gosh, I heard that song at like a random bar in Florida one day and now it's on an album,' So it's really, really cool. And I'm so excited for people to hear it."
Block, perhaps surprisingly, has no fear about introducing her first full-length project. It's a confidence that transcends her music, extending into every aspect of her life as well. For Block, it was an easy decision for her to be wholly who she is, rather than present anything that is less than authentic.
"I don't think about it a lot, to be honest," Block insists. "I don't let the pressure of the industry freak me out. People are either gonna like me or not, and I'm cool with that. I've been in Nashville for almost eight years now, doing my thing. I remember being new to Nashville, and I was thinking, 'Man, if I could just get somebody to hear me, and hear my songs.' With my band, we just started grinding, and I said, 'Listen, it's gonna happen. At some point, somebody's gonna hear us. We don't need to chase down the labels. They will come.' And they did."
Did indeed. Block's Welcome To The Block Party is being released on UMG Nashville, who was so taken with the music Block had already shared that they quickly jumped on board. While Block's talent is undeniable, as a singer, songwriter and performer, Block's popularity surged once she began sharing her music on TikTok, a platform that, quite literally, altered the trajectory of Block's career.
"TikTok changed my life," Block ascertains. "A lot of people are like, 'Oh, I'm sure you're so done talking about TikTok.' I'm not. I believed in myself and I truly, from the bottom of my heart, knew that I was meant to do this, and it was going to happen at some point. I have gone through the worst of worst times in Nashville. I have almost landed myself on the street. But there's something in me that wants this so bad. And I think that TikTok was definitely a jump and it made me seem like an overnight success, but I truly think that it was gonna happen at some point."
Block is about to bare her soul to the world. More than just championing being unafraid to break out of an ever-changing mold, the North Carolina native hopes to inspire others to be their authentic selves, in whatever form that looks like for them.
"I want approachability," Block maintains. "I've lived it, and I want people to feel okay with putting themselves out there, and not trying to be anything that they're not. I want people to believe in themselves when they listen to this album and be like, 'She did this. I can do it too.' There is something really special about it. Dreams come true."
"My Bar" from Welcome To The Block Party is out now. The album will be released on February 11. Pre-order the record here.
Photo Credit: Courtesy of UMG Nashville / Logen Christopher