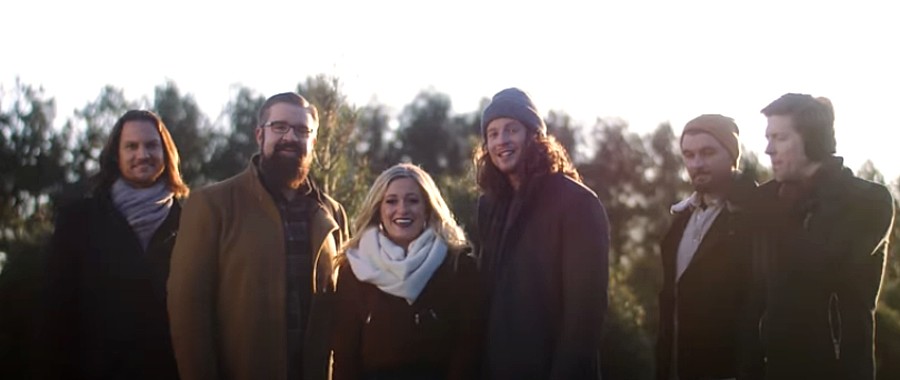 Rachel Wammack appears on Home Free's Warmest Winter album, out on November 6, and also stars in their upcoming Christmas special. The Alabama native, who was picked by Home Free when they were both opening for Reba McEntire, joins the all-vocal band on a cover of Amy Grant's "Tennessee Christmas," and was blown away by both Home Free's talent, and their unstoppable work ethic.
"It was so fun in the studio with them, because they already had most of their vocal together," Rachel told Everything Nash. "I only have done two Christmas songs by myself: 'O Holy Night' and 'This Christmas,' the Donny Hathaway version. I heard this song, 'Tennessee Christmas,' and they just slayed it. But the best part of all of it was the music video, because they love obviously performing live like I do, but their videos carry so much weight, and so many people see them."
Rachel learned as much by watching Home Free during the filming of the video for "Tennessee Christmas," which was first released last year, as she did recording the song with the five-man group.
"They have all these great ideas," Rachel boasted. "They're such hard workers. We went to this Christmas tree farm. It is really, really cold — the coldest video I have ever done. They're just troopers,  just thankful to be here. And in the downtime, they're working on their music for live performances. They're not taking a breather to chill. They're like, 'All right guys, let's get together and work on the harmonies,' because they had a couple of things coming up.
"I was like, 'Dang!' These boys have such an amazing work ethic, and it inspired me so much," she continued. "They're so good live. Being in a band, a vocal a capella group like they are, you have to be good live to be successful. They don't use autotune microphones. They are good. I just was blown away when they were rehearsing this stuff on the side. I'm thrilled to be a part of it."
Rachel also praised Home Free's adoring fans, who have been supportive of the group since the very beginning.
"I knew who they were, but I had no idea they had this insane YouTube following that they have," Rachel said. 'It was so cool when they were telling me their story and how the fans obviously bought into their YouTube stuff and have helped them build this career, which is so beautiful."
Home Free's Warmest Winter album will be released on Friday, November 6, which also includes collaborations with Alabama and Striking Matches. Home Free's Warmest Winter holiday special includes the guests on their album, along with the Oak Ridge Boys and Jeffrey East. Find more details at HomeFreeMusic.com.