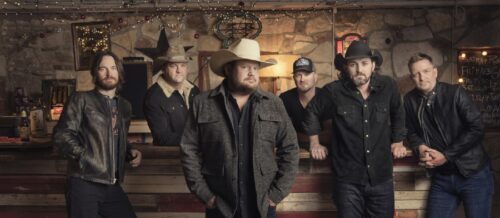 2020 was supposed to be the year for Randy Rogers. The leader and founder of the Randy Rogers Band was planning on celebrating the band's 20-year anniversary with a series of shows, including a sold-out one at Nashville's famed Ryman Auditorium.
Instead, the show got postponed several times before finally moving to a new date next year, now August 6, 2021. The other concerts all got canceled or moved, and while watching the coronavirus pandemic impact almost every part of his livelihood, the Texas native mourned the loss of his father, who passed away after a six-year illness. Yet, Randy is still counting it all joy, in spite of the hardships.
"I lost my father this year to a long drawn out battle with the renal cell carcinoma," Randy tells Everything Nash. "So I immediately put out a press release saying, 'Hey, I lost my dad to a fight with cancer' because, of course, everyone is just labeling everything COVID.  I wanted it to be a testament to his strength, and how hard he fought for so many years, like six years after being diagnosed with Stage 4. He's in a better spot now. 2020 was his year, you know? I think my family is at peace with it, so that's good. So if anybody is worried about me out there, it wasn't an overnight, all of a sudden thing. It was a very hard fought battle."
Randy is still celebrating two decades as a band, even if that celebration doesn't look like he had planned.
"It feels like 40 years, to be honest," Randy says with a laugh. "One thing 2020 has been for me is reflective. I've had time to sit and think about everything we've done, from touring all over the country with Dierks Bentley and Miranda Lambert as the opening opener, to direct support for George Strait, at the Reliant Stadium at the Houston rodeo. Opening for Garth Brooks in Cincinnati, Ohio, playing dive bars all throughout the country. Headlining the Ryman Auditorium, Red Rocks — just all these memories. One memory leads to the next, right? And when you put it all together, it sums up this 20 year career of our band."
In addition to the eight studio albums he made with the Randy Rogers Band, the singer also released his collaborative Hold My Beer, Vol. 2, with Wade Bowen, and released an album as the Stryker Brothers with Robert Earl Keen. He's crammed a lot into 20 years, which is why he embraced the unexpected respite 2020 gave him, feeling mostly gratitude for a bit of a reprieve.
"To be honest, I'm pretty satisfied," Randy reflects. "I mean, I feel bad for the bands that just are starting up over the last couple of years, and all of a sudden you have to take a year off from touring and recording, but for me, it's not that I needed a break, but I appreciate the break."
Randy has also never been home with his three young girls as much as he has been this year. The experience has opened his eyes and shifted his priorities, in a way he could have never anticipated.
"I'm a family man," Randy says. "I have young children, and one of my children, the youngest, she and I weren't close before this. And she went from two years old to now she's three-and-a-half. There's a big difference, that people that have kids know, between two and two or two-and-a-half and three-and-a-half. Huge difference. And I got to be home for that. I got to watch her little vocabulary come, and her personality pop out."
Now that Randy has had so much time with his daughters, he knows he will never, ever be able to go back to life the way he lived it before.
"I've had lots of good times and moments that I would have missed if I was on the West Coast for 21 days or I was in Nashville writing for the week, and then flew home and got on the tour bus and was gone another eight days," Randy shares. "I've got a lot of moments through this pandemic that I wouldn't have had. So it's kind of changed my perspective. I've enjoyed the time off. I think after 20 years that I deserved a break. We pretty much toured incessantly since 2000.
"What the future holds for the band is hopefully getting back out there, and picking up a schedule that may not be as busy," he adds. "I think it's opened our eyes to the things that we were missing at home. Not to say that we don't have work to do still, but I think we're going to do work a little smarter."
All of the Randy Rogers Band's music can be found at RandyRogersBand.com.