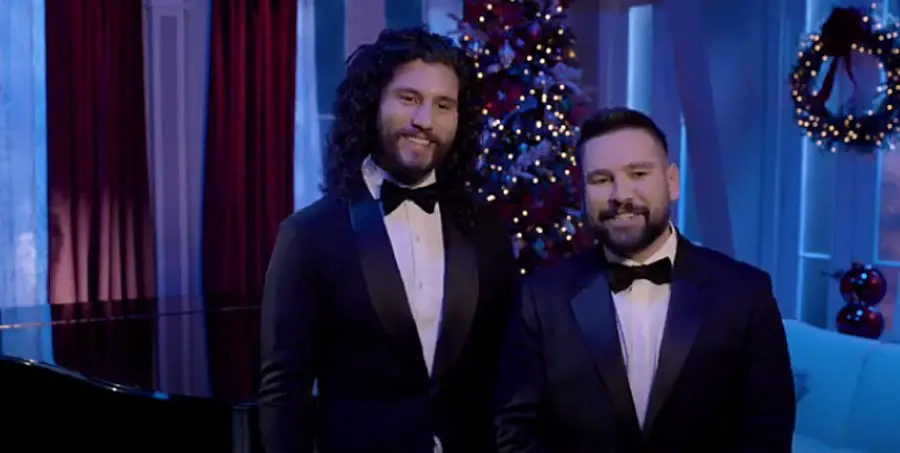 Happy anniversary, Dan + Shay! The duo, made up of Dan Smyers and Shay Mooney, is celebrating eight years together, a milestone Dan recalled on social media, while also sharing they would be performing on the Today Show.
"When I opened my phone to take the photo, I realized the date is 12/7, which means it has been exactly 8 years since we met," Dan wrote, along with a selfie of the pair.  "Just wanna say thanks for everything y'all have done for us, it truly means the world. We've been able to accomplish some really cool things since we started this band, and it's all because of you believing in the music."
"Kinda all up in our emotions today," they added, encouraging their followers to share their own favorite memories. "We're gonna read 'em all and try not to cry."
.@TODAYshow | tomorrow 🎄 pic.twitter.com/dLhAcH36QV

— Dan + Shay (@DanAndShay) December 7, 2020
Dan + Shay just released their original holiday song, "Christmas Isn't Christmas," which they performed earlier in the season on CMA Country Christmas.
"We wrote one called 'Christmas Isn't Christmas,' and it's near and dear to our hearts," Dan shared in advance of their performance of the song. "It's a song that we wrote about our wives. The holidays are that much more special with family. Especially this year, we all need that lift, that holiday spirit. Christmas Isn't Christmas if it's not with you. All these things can still be happening; we can still have that beautiful vibe, the Christmas trees, all the lights, but if you're not with the one that you love, then it all means nothing."
Dan + Shay started writing songs as soon as they met in 2012. Their first single, "19 You + Me" was certified platinum for sales in excess of one million copies.
Dan + Shay are also enjoying a Top 10 single with "I Should Probably Go to Bed." The song will join their record-breaking former hit, "10,000 Hours," which featured Justin Bieber, on their upcoming, still-untitled new album.