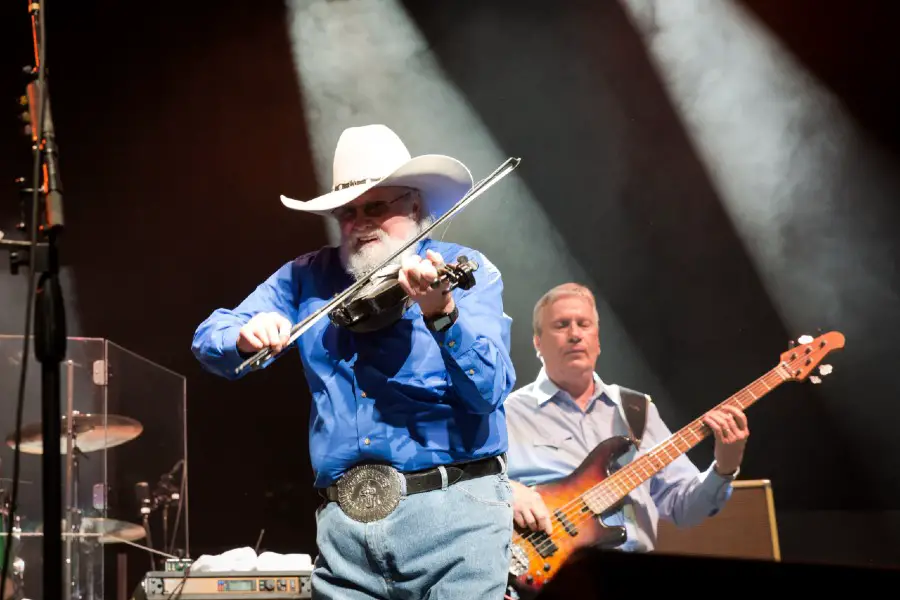 On Wednesday, August 18, Charlie Daniels' legacy was honored with the star-studded 2021 Volunteer Jam: A Musical Salute to Charlie Daniels, an event that Daniels had already planned but passed away before he was able to see his vision come to life. Stars like Randy Travis, Chris Young, Darryl Worley and more spoke out about Daniels' influence on their own life, which went much deeper than just their respect for him as a musician.
Travis remembered the kindness Daniels showed him at a CMA Music Fest, after suffering a stroke in 2013.
"He knelt down and told me he knew I wanted to sing again," Travis told People. "He took off his big hat and asked me if he could pray. There we were with our heads bowed, Charlie eloquently praying, and I wept. I wish the thousands out in the crowd that day could have known the man that I knew. They heard a great musician playing, and I knew a great man praying for my life and health and for the safety and welfare of each fan in the crowd."
Worley also remembered Daniels' faith as much as his musical influence, sharing a backstage moment the two had that forever altered Worley's life.
"He said, 'Son, what are you doing for the Lord?" Worley recounted. "It caught me totally off guard, and my brain was spinning out of control for the right answer. He patted me on the back and told me that I had a gift that was more than just music. He told me that he could see it in me, and that God had big plans for me."
Daniels also told Worley that his career would continue to grow, and encouraged him to speak out about his own faith.
"It was like, 'Wow, where did all that come from," Worley reflected. "After a few minutes, he was gone. Charlie was very direct and methodical. He had a purpose in his journey. From that day forward, I took my faith and my direction more seriously."
After Daniels passed away, Young stepped up to continue working with The Charlie Daniels Journey Home Project in his absence. It was just one way Young could honor his hero's legacy and influence.
"He put so much of his heart into his music, and he cared so much about others," Young said. "I was excited every time I got to be a part of any event with Charlie. Every time was truly a memory I will always treasure, and I'm sure everyone who collaborated with him felt the same."
Ricky Skaggs, who joined Daniels in being a member of the Country Music Hall of Fame, saw a bit of himself in Daniels, especially when he performed live.
"I believe Charlie loved the challenge of playing someone else's music, not just his own," Skaggs said. "I think as a musician I love the same thing; it keeps our prayer life alive,"
While Daniels absence will forever be missed in country music, no one feels that loss more acutely than Daniels' wife, Hazel, and his osn, Charlie, Jr.
"There's a huge hole that he left because not only did I lose my dad, but I lost my friend, my boss and the focal point of our whole organization," Daniels' son said. "It's been a long time coming to try and figure out a way to honor his legacy."
Over a dozen artists performed for the 2021 Volunteer Jam: A Musical Salute to Charlie Daniels, including Alabama, The Marshall Tucker Band, Chris Janson, Jenny Tolman,  Big & Rich, Lorrie Morgan, Michael W. Smith, Gretchen Wilson and more.