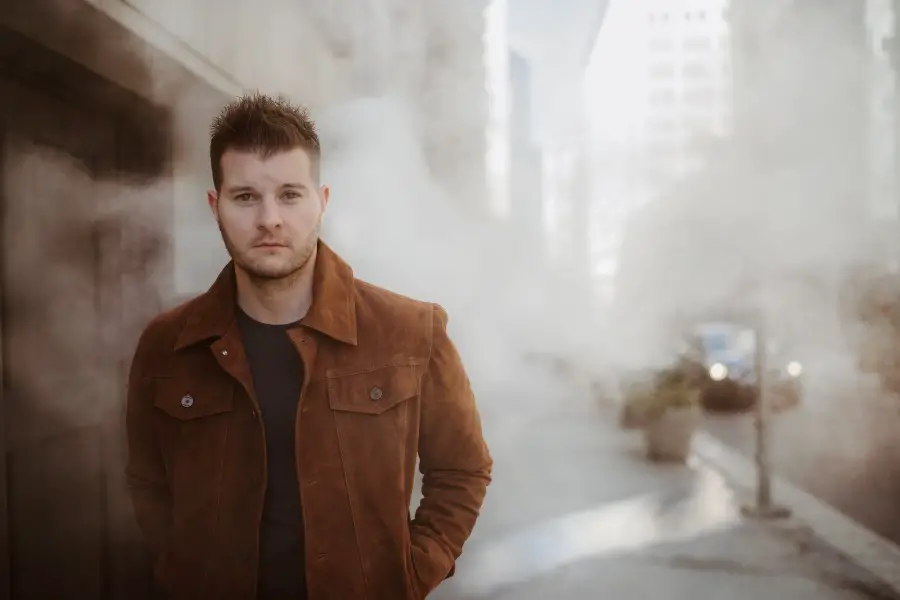 New music is here from Justin Fabus! The Pennsylvania native's five-song EP, The Aftermath, is out now. Fabus wrote all of the tracks on the project by himself, a daunting task that only made each of the tracks a deeply personal look into Fabus' own life.
"I kind of lead off from the last EP, Shelter From the Storm," Fabus tells Everything Nash. "That's why I call it The Aftermath because everything that we went through with the pandemic felt like this big storm. And now here we are dealing with the aftermath of all those things. I feel good about it. I'm excited about it. I think people are going to really enjoy it."
Fabus pushed himself to pen all of the songs by himself, both as a personal and professional goal. For someone who is already an experienced writer, and used to writing with other people, the chance to tell his own stories his own way was a goal he wanted to attain for a while, but seemed destined to be with The Aftermath.
"I wanted to see if I could do it myself, and prove it to myself that I could do it just on my own," Fabus shares. "I've always admired artists like Billy Joel and Bruce Springsteen who just solely wrote all their stuff on their own. And also, just the way it happened. I never go into a project thinking I'm going to write with this person, or I'm gonna write with that person, or I'm going to even write a song or an EP or an album. I just start writing and see what happens.
"The songs just started flowing out and I was able to finish them from the start, upfront, all by themselves.," he adds. "So I didn't really need a songwriter to help me with one or two of the songs."
Included on The Aftermath is a collaboration with Chapel Hart, on "Run," a song that was inspired by a dog, Reyna, which he and his fiancée, Court TV reporter Julie Grant, adopted during quarantine.
"We kept hearing stories about how people had to give back their animals because they couldn't afford them," Fabus explains. "So we ended up rescuing a French bulldog named Reyna. She was completely paralyzed in her back legs, so she dragged when she moved, but you couldn't tell that she knew she was paralyzed. She would try to still run and jump and all those things. She was also incontinent, so we have to diaper her. She's a lot to deal with. We were told that she would never walk again; it was just the way it was."
Neither Fabus or Grant were willing to give up without a fight, taking Reyna to a chiropractor and buying Reyna a pool, all of which helped the sweet dog defy the odds and learn to walk again. As Fabus was working on the lyrics for "Run," a friend's daughter, Mary, also had a physical challenge, when her body also became temporarily paralyzed. Fabus went to visit her in the hospital, and was inspired by her positivity, in the midst of so many challenges and uncertainties.
"I was just so taken back by this young girl, because during the pandemic, everybody was miserable, and understandably so," Fabus reflects. "You would assume that this girl would be so miserable and upset, and when you walked in, she was like a ray of sunshine. If you didn't see her sitting in a wheelchair, you would never know that something was wrong with her … she was just as positive, and as beautiful as ever."
After Fabus visited Mary, he was quickly able to finish "Run," inspired by both Reyna and Mary. As soon as he finished it, he knew he wanted Chapel Hart to join him on the track.
"Right away, I could hear this gospel sound, or this uplifting chorus that I have on there now," Fabus says. "The first people I thought of was Chapel Hart. So I reached out to them, and sent them the track and they liked it. They cut their vocals in New Orleans and sent it back, and it just blew me away. We put all the finishing pieces together and they really took the song to another whole level. They're really killing it. I'm really proud of them. I knew that they would really do well. They got all the pieces of the puzzle."
The Aftermath debuted at No. 2 on the iTunes Country Chart. Purchase the record at JustinFabus.com.