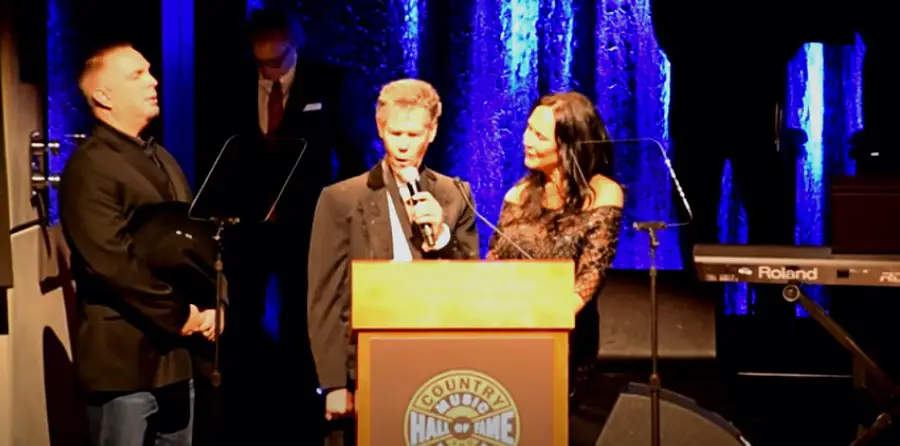 Randy Travis stunned country music fans in 2016, when he performed "Amazing Grace" at his induction into the Country Music Hall of Fame, marking his first performance since suffering a debilitating stroke in 2013. Told he would never speak, let alone sing again, Travis' wife, Mary, shares how that miraculous moment occurred.
"It was a song that had always been so special to him," Mary shared on The Big Interview with Dan Rather. "One of his last public appearances was at George Jones' funeral, and he sang 'Amazing Grace.' When we were in physical therapy and occupational and speech therapy, we went for two and a half years, after we finally got out of the hospital, after five and a half months. But that's where a little girl named Tracy, who had a music degree, she would come in on her lunch hour, bring her keyboard, and started teaching Randy melody and song again.
"So she started teaching him 'Amazing Grace,' and the words from his memory bank have been in his brain, which was the unaffected side. The words all came back to him," she continued. "It was just a matter of the aphasia and forming the words that was the challenge. We spent about two months on just the letter A. But when we got A down, then the next letters and vowels seemed to come exponentially."
Travis worked hard to be able to sing, and his hard work paid off.
"We spent probably six hours a day running through that song, trying to get through all four verses and learning the words," Mary recalled. "I asked him, probably about 30 minutes before the induction started, I said, 'Honey, do you feel comfortable doing it?' Because after my speech, I was going to introduce him and give country music back the voice of Randy Travis, if he felt good about it. And he looked at me, and he said, 'Yep!'"
No one but Travis' wife knew he was going to perform, which made the moment even more magical.
"I think when I put that microphone in his hand, he just became Randy Travis again,' Mary said. "It was just absolutely beautiful. It took everybody by surprise in the place, because nobody knew that he knew it, or could do it. And it was the first time he had ever sang a note in public since the stroke, so that was three years prior. I think there wasn't many dry eyes in the place. It was beautiful."