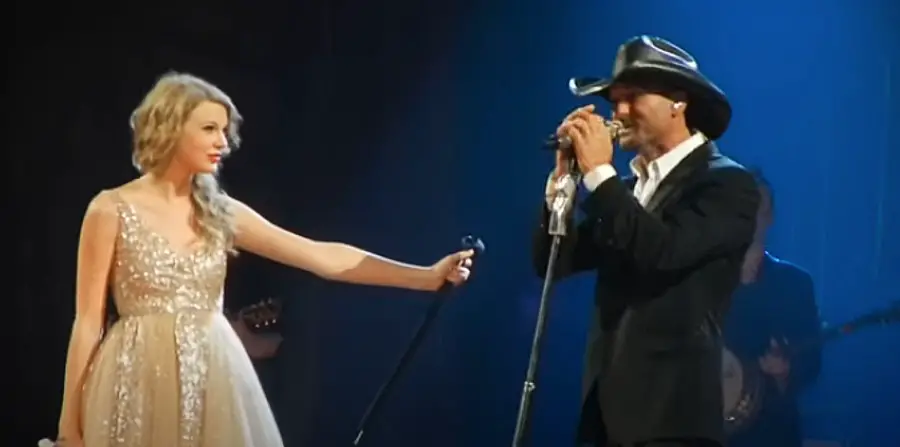 Tim McGraw first heard of Taylor Swift when she was just a rising star, and her debut single was named after him. Although he is now a big fan of both the song and the singer, McGraw admits at first he didn't necessarily take the tune as a compliment.
"Well, when I first heard 'Tim McGraw' by Taylor Swift, I mean, I thought it was a good song," McGraw said on Apple Music's Essentials Radio.  "I was a little apprehensive about it when I first heard it. Then I thought, 'Have I gotten to that age now to where they're singing songs about me? Does that mean I've jumped the shark a bit? Is everything still cool?' And then I realized that somebody had told me that she was in her 7th grade math class when she wrote the song, so it made me feel a little bit better about that because she was so young writing it. So I didn't feel like I was that terribly old."
McGraw quickly became a fan of Swift, and even invited her to join him and his wife, Faith Hill, on the road.
"She opened for Faith and I on our Soul2Soul Tour," McGraw recalled. "It was incredible. It was just her and her guitar and one other person. Just two people, her and another guy playing … I'm a big fan of Taylor's. I think that she has just such a unique way of connecting with her audience and her songwriting ability and her intuition is just so incredible. And I just think she's one of the greatest artists to come along in a long time."
McGraw recorded "Highway Don't Care" with both Swift and Keith Urban, although their joint performance of the song at the ACM Awards almost ended poorly for McGraw.
"At the end, when we were all do these superhero poses at the end at the front of the stage, where all three of us together; and Keith does this big guitar thing, and he swings the neck of his guitar out and misses my face by millimeters," McGraw recounted "Comes right by my cheek with the guitar. I didn't flinch, and we ended the song. I walked out and said, 'Man, you almost killed me,' and he didn't even notice that he had done it.
"You can go back and look at it now. You can see where it just barely missed me," he added. "He could've killed me… Though that would have been pretty good to be knocked out by Keith Urban's guitar. I would've taken that."