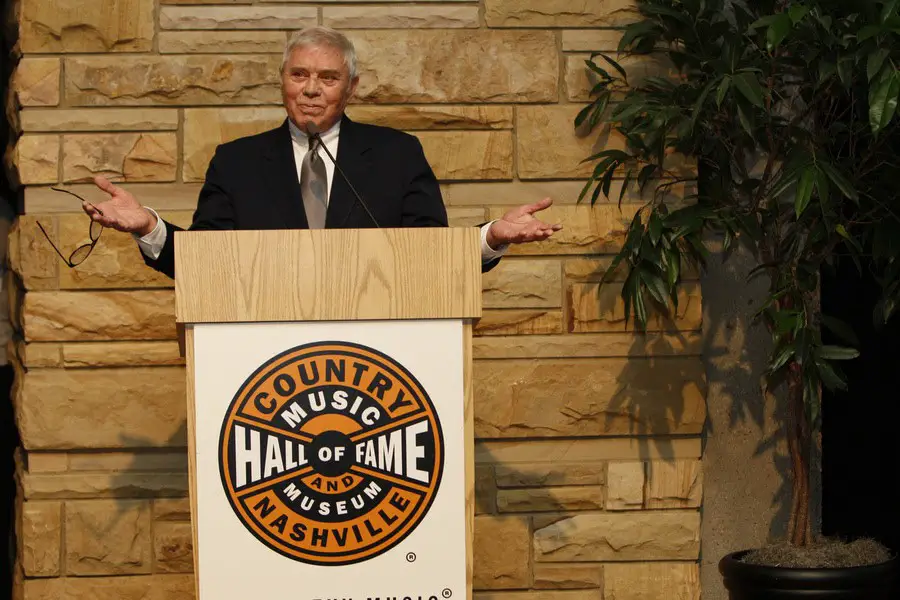 The country music community is mourning the loss of one of their own. Tom T. Hall, known as "The Storyteller," passed away on August 20. Hall was 85 years old when he died at his home in Franklin, Tennessee.
Hall, best known for writing "Harper Valley PTA," which became a major hit for Jeannie C. Riley, had several hits on his own as an artist, including "A Week in a Country Jail," "The Year That Clayton Delaney Died," ""Old Dogs, Children And) Watermelon Wine" and "I Like Beer," among others. He also wrote songs for other artists, including Bobby Bare's "That's How I Got to Memphis," Alan Jackson's "Little Bitty," and more.
Numerous country artists spoke out about Hall's death, and the indelible mark that he left on country music.
"I was saddened to hear of Tom T. Hall's passing," Ricky Skaggs says. "I loved him. He was a great Kentuckian with a heart of gold. He was a kind and gentle man. Lots of people come to Nashville to write songs, but Tom T. came to tell stories. These stories are everyone's story. They are America's story. Now he can truly say, 'me and Jesus have our own thing going.'"
"One of my heroes. An artist for all the ages!" Alabama's Randy Owen says.
"Tom T. Hall was a great storyteller, artist, poet, friend and especially husband to the great love of his life, Miss Dixie," Ronnie Milsap notes. "The only comfort I have in this loss is the idea they're reunited tonight in heaven."
"Tom T. was the ultimate storyteller," John Anderson says. "His songwriting had the ability to make you see a story unfolding in your head. Such a unique and incredibly talented man. He will be missed."
"It is difficult to believe the Storyteller of our time is gone," says Jeannie Seely. "His stories have been told and that is so hard to imagine, as we all want to hear more. If you listen to 'I Love,' you know Tom T, and you also know that's why HE was loved so much. He reminded us that those little things were so special, like little baby ducks. One of the treasures that I regret losing in the flood was a handwritten note to me from Tom T. for the 'recipes' I had written for the Animal Land Cookbook. He said it was a gift to be able to make someone laugh in one paragraph and cry in the next, and he should know because he did that often. The treasure I regret losing most of all is Tom T. Hall as he was truly a gift. It helps to know that today he is reunited with Miss Dixie and all the dogs they've ever loved."
"Back in 1978 when we sang at Mama Maybelle Carter's funeral a saddened and shaken Johnny Cash walked up to the podium and asked Tom T. Hall to stand with him… Johnny said, 'I draw strength from you, Tom!'" the Oak Ridge Boys' Joe Bonsall says. "Thank you Tom T. Hall for the songs and the strength you provided to so many … Rest Easy now and draw strength from the loving arms of Jesus… until the day."
Hall's wife, Dixie, passed away in 2015. He is survived by one son, Dean, from his first marriage. A private family service will be held, with a public service planned for the future. Those wishing to honor Hall's life may contribute to an animal shelter in his honor. Everything Nash extends their deepest condolences to his family and loved ones.