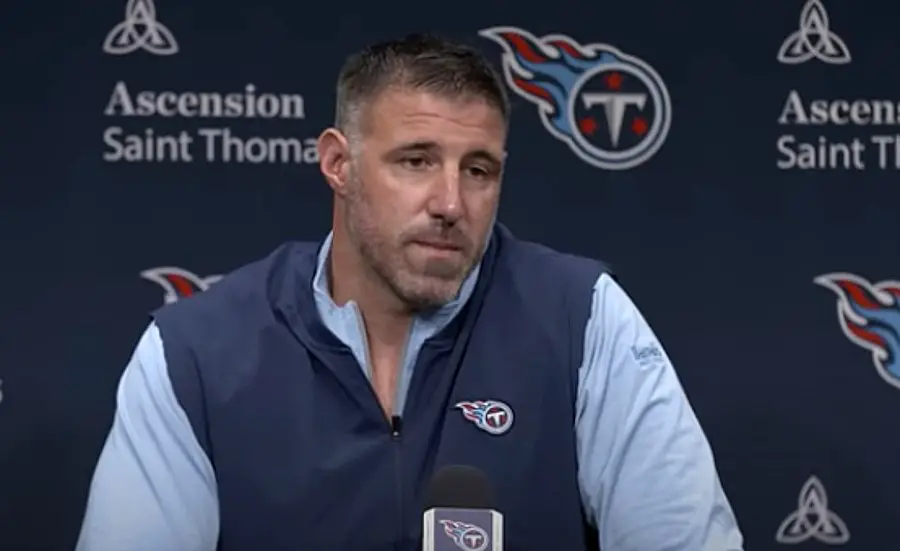 Tennessee Titans coach Mike Vrabel has tested positive for COVID-19. The news was announced in a virtual press conference on Sunday, August 23. Vrabel said he woke up with a sore throat and an earache, which prompted him to take two tests. Both came back positive.
"As of now, I'll be in quarantine, following the protocols, and trying to do my best to help the football team while I am (home)," Vrabel said (via TennesseeTitans.com). "I am very confident in our football team, our coaching staff, our organization, that no matter what the situation is, we'll handle it."
For now Vrabel, who has received the COVID-19 vaccine, will remain in quarantine. He will need two negative tests within a 48-hour period to be able to return to the Titans facility, or he will have to remain away for ten days. Fortunately, Vrabel believes his is an isolated case.
"I don't think that anybody (else) that has been tested this morning has tested positive," he said, adding that he will still participate in the Zoom squad meetings.
"We'll figure this thing out, but the health of everyone involved is most important," Vrabel said. "Right now, I am going to work through a lot of those things – we don't go out to the practice field until tomorrow."
Vrabel, who has been the head coach of the Titans since 2018, also plans to enjoy his time away as much as he can.
"I am going to get a boat, and I am going to put the boat out there on the lake, (Lake) Amulet, and just float around and be able to yell," Vrabel said. "But I am sure the players, which I sent a text out to – unfortunately I couldn't tell them on Zoom – but I wanted to let them know before I came on here. I'm sure they'll enjoy the few days away from me.
"I'll miss it, but that football team is a part of my family," he added. "It's a part of my life; it's a part of my heart. So I'll miss them, and I'll be able to communicate with them via Zoom. And I'll just make 'Stretch' [Coordinator of Football Development John Streicher] take the iPad around to each and every room so I can check in with them all."
The Titans have won both of their preseason games so far, beating the Atlanta Falcons 23 to 3, and the Tampa Bay Buccaneers 34 to 3. Their final preseason game takes place this Saturday, August 28, against the Chicago Bears. The Titans first regular season game is against the Arizona Cardinals on Sunday, September 12.