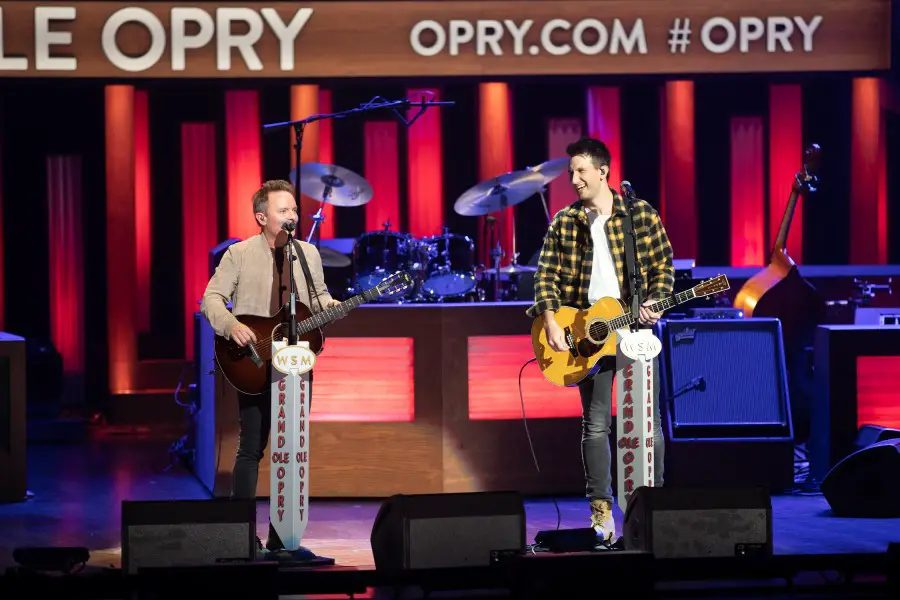 Long before Russell Dickerson was a successful country music singer, with four consecutive No. 1 singles, he was a guitar tech, tasked with helping a star — in this case, Chris Tomlin — make sure all of the guitars and instruments were in tune and in working order at each tour stop. The two men reunited at the Grand Ole Opry on Saturday, November 21, where they performed Chris's single, "Good, Good Father," and reminisced about Russell's foray into the music business.
"One of the most special things about tonight is playing with Russell, and Russell being a part of this night," Chris shared from the Opry stage. "Most of you don't know this — Russell's already a superstar, a country music superstar, and just incredible. But Russell was for years my guitar tech, touring … Russell slept in the bunk under me on the bus for years, on tour.
"I remember driving down the road, years later, and hearing his first single, 'Yours,' on the radio, and they said, 'Russell Dickerson,'" he continued. "I said, 'That cannot be the same Russell Dickerson.' It's just been awesome to see his career and what he's been doing and all the things. He's just one of the best guys in the world. It's a long way from tuning our guitars … He was the worst guitar tech in the history of the music business. But just clearly one of the best artists."
After their Grand Ole Opry performance, Chris and Russell sat down with Runaway June's Natalie Stovall about their friendship, which began when Russell dropped out of college at age 19 to go on the road with Chris.
"I had no clue," Russell admitted. "We're headed to fly out, and the front of house guy goes, 'I think they've got this drum kit, this, that, that, that, and a B3. And I'm like, 'What's a B3?' He was like, 'You're in charge of that, so you're going to have to know everything about it.' I knew how to change guitar strings. That was about it. Luckily, nothing too crazy [happened]."
"That tour really made me fall in love with not just music, but touring," he continued. "That whole aspect of set-up, tear down, roll into an arena, and see it from absolutely nothing to a show. I was like, 'This is what I want to be a part of.' I knew that, with my own music, if I could just get to a tour bus, I could keep going. Riding on Chris Tomlin's tour bus, back in the day, that was my light at the end of the tunnel."
Chris has fond memories of his time on the road with Russell, even though he acknowledges the "Love You Like I Used To" singer wasn't very good at his actual job.
"He was the worst guitar tech we've ever had. He was the best hang of anybody that's ever been with us," Chris said with a laugh. "This is my favorite story. We're at this festival. It's so hot. It's 125 degrees or something like that, and we're playing. Daniel, my guitar player — Russell's in charge of mostly Daniel, my guitar player. And Daniel's just going for it. Something happens, and the guitar goes out. The amp is on fire; the smoke is coming out of the amp. It's on fire.
"People are praising God. I'm looking at Russell like, 'What's happening?'" he recalled. "I look over at Russell and he's hands up, singing, just going for it. I'm like, 'Russell, I appreciate you're in the moment, but the amp is on fire.'"
Their performance begins in the video above around the 53-minute mark. Russell also sings with Chris on his recent Chris Tomlin & Friends album, on both "Together" and "Sing." Chris also performed "Who You Are to Me" with Lady A from the Grand Ole Opry stage. That song, also on Chris Tomlin & Friends, was written by Charles Kelley, Hillary Scott, Dave Haywood and Chris.