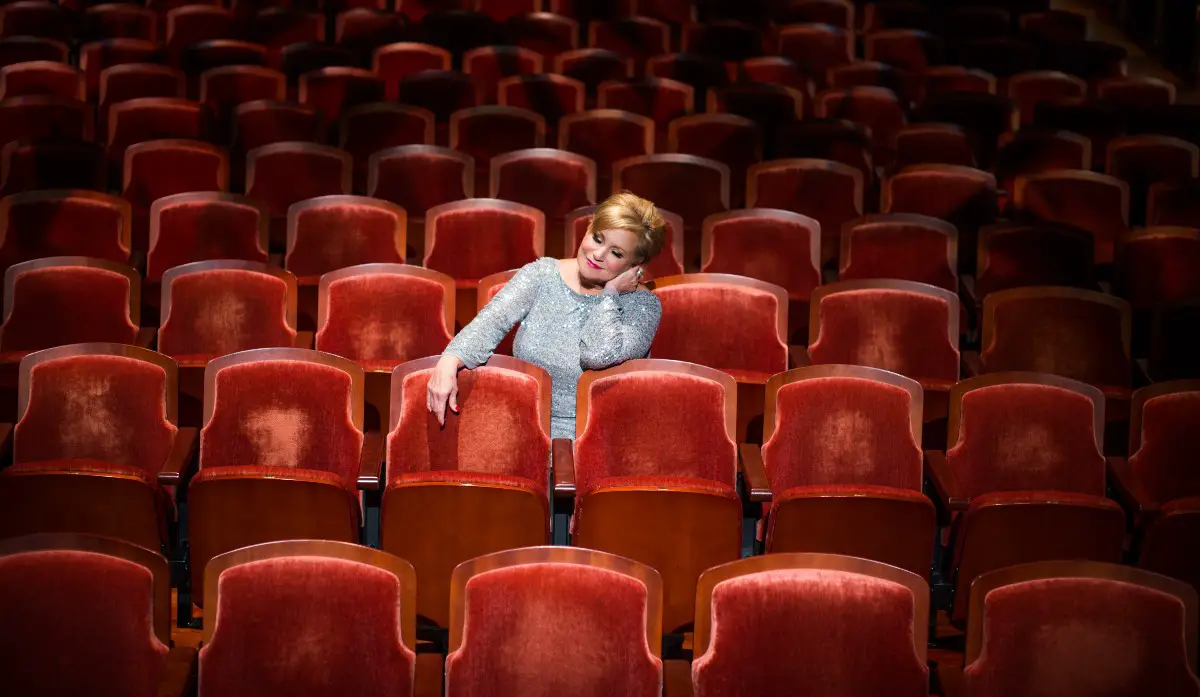 Sandi Patty will perform two back-to-back shows at the Franklin Theatre on Saturday, May 8, located in Franklin, Tennessee, just outside of Nashville. The concerts are part of her ongoing Simply Sandi: An Intimate Night of Stories and Songs With Sandi Patty series, where she not only sings, but tells the stories behind some of her biggest and most-beloved hits. The idea for the shows was born not out of her desire to hit the road again, but from a conversation she had with her husband, Don Peslis.
"Franklin is every small town everyone wants to live in, and the Franklin Theatre is just so historic," Patty tells Everything Nash. "It's beautiful. It's lovely. It's intimate. And there are just some wonderful stories that have happened along the way, some surrounding the songs, some when you're on the road. One night we just kind of fell into this rhythm of telling some of the stories and Don  said, 'You know what? You just need to do an evening of stories and songs,' and boom — it was born. We do definitely some old vintage songs and share some of the stories. And the Franklin Theatre is so suited for just that evening of gathering in the living room. We're excited to do that."
Patty is even more excited to perform at the Franklin Theatre after being forced to spend so much time off the road because of the pandemic.
"We've postponed this show so many times because of COVID, and I'm so excited. This was the first show that got postponed," Patty gushed. "The first concert I did after COVID was about three weeks ago in Texas. I have never been so nervous in my entire life. I had not done that for a year. I'm an audience stalker. I always watch the audience ahead of time when they don't know I'm watching them. And they were so excited, I think, just to be out of the house. The people at the venues,  who hadn't worked in a year, they were excited to be there. It was an excitement that you could feel in the air. So when everybody around me is excited, that gets me excited, and we just start feeding off of each other."
Patty wrapped up her massive Forever Grateful World Tour in 2017, but hints there might still be more music coming from her in the future.
"My team, we thought a lot about that," the 40-time Dove Awards winner admits. "I think if there were a recording or something, I feel like it would be like just Simply Sandi in hymns or Simply Sandi and maybe some songs I've recorded in the past, but we'll strip it way down and just do like the chorus of 'In the Name of the Lord.' Or Simply Sandi, some of the newer songs, like 'The Goodness of God, or something like that … I don't know that I want to do the big orchestra stuff.
"I love the art of music so much that I don't want to be like those football players that should have retired a few years ago," she continues. "But because I love the arts so much, I don't ever want to do disservice to the art, but will I always have something to say, and will there always be a song that will help me say it? Yes. That make it into a recorded platform? I hope so."
Tickets are still available for both of Patty's Simply Sandi: An Intimate Night of Stories and Songs With Sandi Patty shows. Livestream tickets are also available for only $25 per household. Find more details at FranklinTheatre.com.