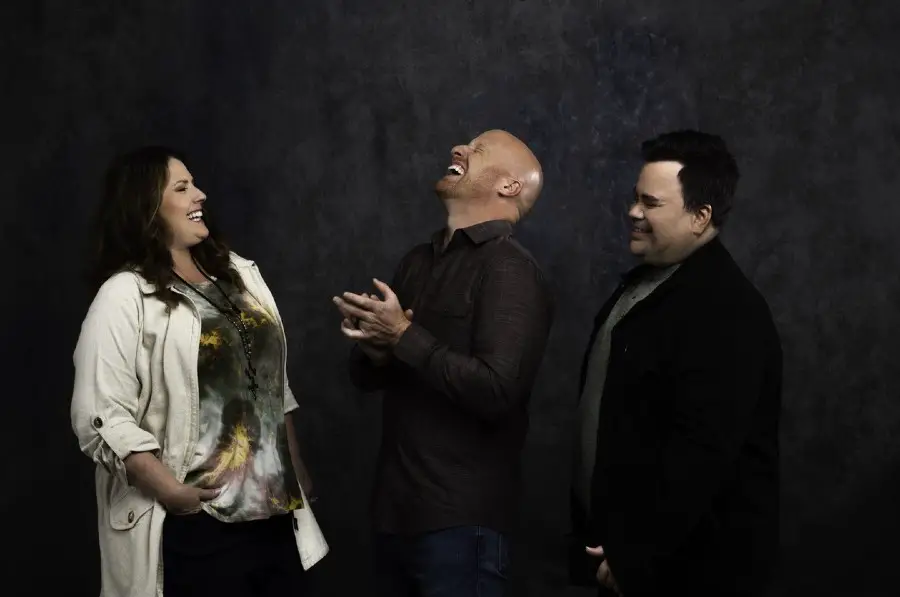 Selah's 16th studio album, Step Into My Story, will be released on Friday, November 6, but this release looks a lot different for the trio. For the first time, Selah, made up of Todd Smith, Allan Hall, and Amy Perry, will release a record on their own, newly-formed 3Cre8tive record label, after spending the last more than two decades on Curb.
"We've been doing this for 23 years," Todd told Everything Nash. "I think when we started there were cassettes. We've gone through this massive revolution from cassettes and CDs to streaming, which is  kind of like the transportation industry in the late 1800s, early 1900s, going from horses to cars, to finally planes and jets. It's so easy to get lost in it or to go, 'We've been doing this for a long time. How am I going to know how to do technology, or do this new way of doing things, or starting something new?'"
Todd admits that Selah may have signed another recording contract with Curb, with whom they had a positive relationship, but it was Allan who felt the urge to step out on their own.
"To be perfectly honest, when we finished with Curb, they wanted to resign us," Todd shared. "We have a great relationship with them, and it was actually Allan's idea. I'm typically more the risk taker. I grew up in Congo, [Africa], and I'm like, 'Let's try this and let's do this.' We had just had a meeting with our management about resigning and what we were going to do, and he said, 'Man, after this meeting, 'cause I think I know where it's going to go, can we just go and get lunch and talk through some things?'
"And so he and Jason [Kyle Saetveit], our producer, who's also a founder of 3Cre8tive sat down, and Allan just said, 'Man, I think we can do this,'" he recounted. "I think we could do it on our own. We've never owned our own stuff.'"
Todd may have been the risk-taker throughout much of Selah's career, but he admits that leaving the only label they ever called home was terrifying.
"All the fear just started hitting me," Todd recounted. "We don't know anything about this. You can be held back by fear and taking a risk and failing so much in everything. Finally, it just got to the point where it was like, 'Okay. Let's do it.'"
Allan never wavered from his belief that they were ready to release music on their own, but that doesn't mean it was easy for him to take the leap of faith.
"I'd been doing a lot of thinking and praying about it," Allan said. "Our relationship with Curb is still really good. We're still in contact with them, and they're still a great resource and just good friends. We were there for 21 years. But the industry has changed so much since we signed with them. Our first two albums were on cassettes. That was the era of when you had to be on a major label or at least a label of some sort that had access to major distribution channels. Now, it's just broken wide open."
Selah also felt like it was time to breathe new life into their careers, both professionally and personally, which they believed they could best do on their own.
"Even though you still respect each other and like each other, that fire has kind of gone," Allan reflected. "I think it's harder for a label to maybe get as excited about an almost 25-year-old group that they've had versus the new kids on the block coming up. It almost felt like we were a little too familiar with each other … I was just like, 'I think we can do more.'"
The move to their own 3Cre8tive label was frightening, but also exhilarating as they ready the release of Step Into My Story, in a way Selah could not have experienced had they stayed with Curb.
"It's so exciting," Todd acknowledged. "We've been able to establish relationships with Spotify, with Apple, with Pandora. We signed our first distribution deal for CDs, because we still do sell CDs, and you're trying to utilize that. It's been invigorating for me. It's a challenge, but it's also so exciting because it's on us. If this doesn't work out, it's on us."
Selah is the recent recipient of two Dove Awards, both for Inspirational Album of the Year, for their 2019 Firm Foundation record, as well as Recorded Song of the Year, for "Yet Not I, But Through Christ In Me." Pre-order Step Into My Story at SelahOnline.com.