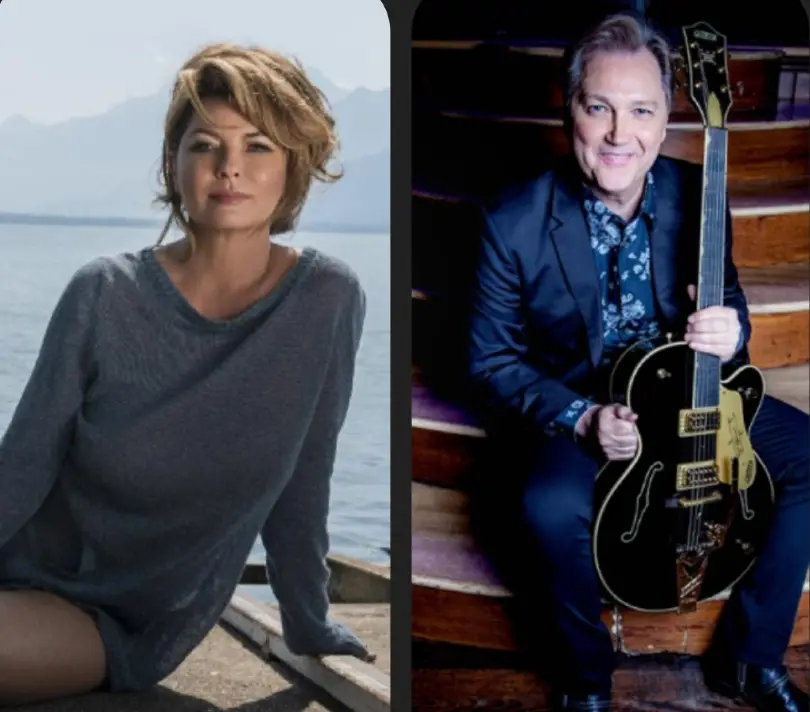 We now know which five songwriters will be inducted into the Nashville Songwriters Hall of Fame later this year. Shania Twain, Steve Wariner, Hillary Lindsey, Gary Nicholson and David Malloy will all be inducted, at a ceremony held this fall.
"This is always one of my favorite days of the year – when we announce our incoming class and begin their journey to the Nashville Songwriters Hall of Fame Gala in October," Sarah Cates, chair of the organization's board of directors, said. "I'm especially gratified to note that – for the first time since 2009 – two of our inductees-elect are women."
Twain, who was not in attendance when the news was announced, later shared a video expressing her joy at the upcoming induction.
"Thank you so much to the Nashville Songwriters Hall of Fame," Twain said. "I can only say that it's a dream come true. I'm really honored to be among so many of my songwriting idols, and it just feels really good. Thank you for accepting me into your community. I wish I could be there, but I'm actually writing right now, in Switzerland, and I'm trying to finish up my album, but I wanted to thank you, even though I can't be there in person. Love to all of you, and have a fabulous night."
Wariner spoke out about the honor on social media.
"I can't begin to express the elation I feel with this great news!" Wariner gushed. "I'm honored to be included in this year's class of 2022 Nashville Songwriters Hall of Famers. You know, I was a songwriter long before I was a recording artist. A big thanks to all the wonderful artists who have recorded my songs thru the years. I am truly humbled."
Twain and Lindsey will both be inducted in the Contemporary Songwriter category. Twain wrote or co-wrote all of her biggest hits, including  "You're Still the One," "Any Man of Mine," "You Win My Love," "Man! I Feel Like a Woman" and more.
Carrie Underwood has recorded almost 40 of Lindsey's songs, including Underwood's debut "Jesus Take the Wheel" single, along with "So Small," "Wasted," "Last Name" and Underwood's current single, "Ghost Story." Other hit songs co-written by Lindsey include Lady A's "American Honey," Little Big Town's "Girl Crush," Keith Urban's "Blue Ain't Your Color," Luke Bryan's "What She Wants Tonight," and many more.
Wariner is being inducted into the Veteran Songwriter Artist category. Wariner penned some of his biggest hits, including "Where Did I Go Wrong," "Holes in the Floor of Heaven" and "Two Teardrops," among others. Wariner has also had songs recorded by other artists as well, such as Urban's "Where the Blacktop Ends," Clint Black's "Nothin' But the Taillights," and "Longneck Bottle," which Wariner recorded with Garth Brooks.
Gary Nicholson will be inducted into the Contemporary Songwriter category. Nicholson earned his first Top 5 hit in 1983, with Mickey Gilley's "Your Love Shines Through." Nicholson has continued to have hits in the decades since then, including Charley Pride's "The Power of Love," Clay Walker's "Live Laugh Love," Brooks' "Squeeze Me In" duet with Trisha Yearwood, and Montgomery Gentry's "She Couldn't Change Me," among others.
Malloy will be inducted into the Veteran Songwriter category. Malloy is credited with writing some of country music's most classic hits, including Eddie Rabbit's "I Love a Rainy Night," "Someone Could Lose a Heart Tonight" and "You Can't Run From Love." Malloy also wrote songs for other artists, including Kenny Rogers' "Love Will Turn On You," Reba McEntire's "One Honest Heart" and Billy Gilman's "One Voice."
The Nashville Songwriters Hall of Fame induction ceremony will take place on Sunday, October 30, at the Music City Center.