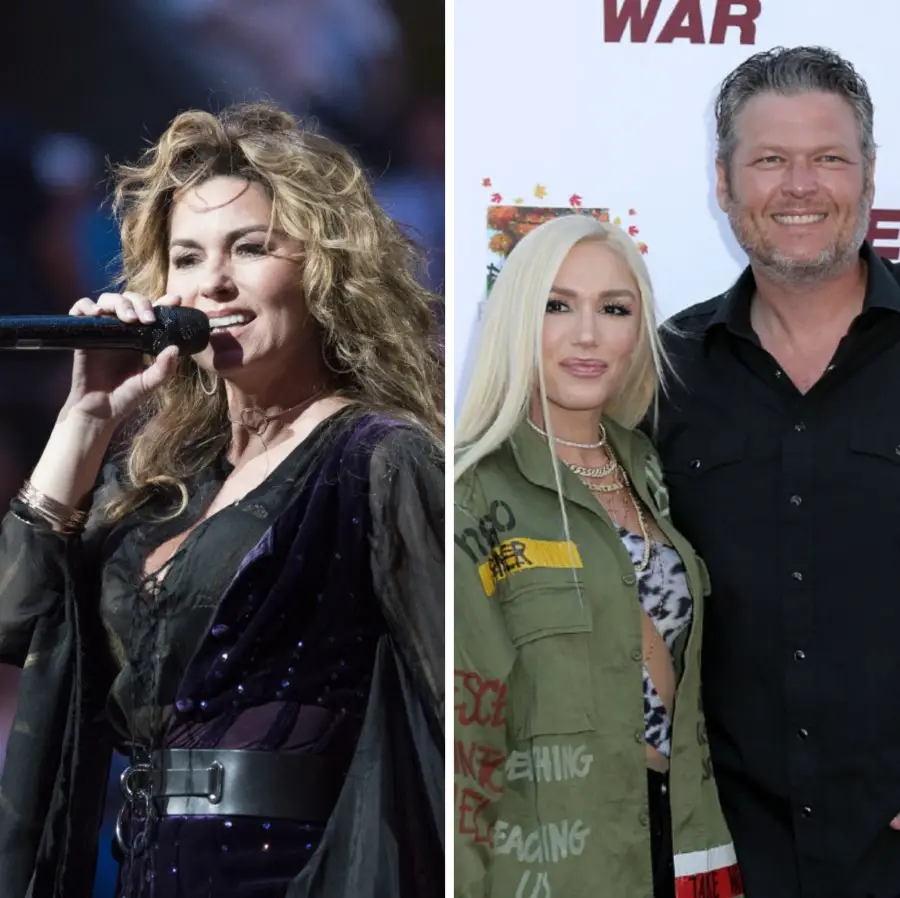 Shania Twain is a big, big fan of Blake Shelton and Gwen Stefani, both as artists and as people. The Canadian gushed about the two singers, hinting that she would like to perform with them as well.
"Well my goal is to do a trio with them," Twain told Entertainment Tonight. "So, when I think of Blake and Gwen, I think trio vocals. So that's the first thing I wanna do."
Earlier, Twain said that Shelton and Stefani seemed like a match made in Heaven, in every way.
"[They are] two sweet, adorable, friendly, talented people," Twain said (via CMT). "They belong together. I hope they stay married forever and ever and ever and ever and ever. When you set your wedding date, let me know. Even if I'm not invited, I'll be thinking of you. I'll be sending good thoughts your way."
Although nothing is in the works yet, Twain knows exactly what kind of song she'd like to do with the pair.
"I'd have to send something very, very crossover," Twain said. "Because she's glam and he's plaid and jeans."
Twain will return to her Las Vegas residency, beginning on December 2, at Zappos Theater at Planet Hollywood. As much as the Canadian is looking forward to performing, she's also looking forward to just being around people again.
"I have not seen my dancers, my crew, the band, and I haven't seen the fans. So it's time to reunite. Time to party," Twain says. "I put so much work into the show, from designing to building the concept and the wardrobe, to bringing a show together that I think my fans will love. And then all of a sudden it's just stopped. So I was looking forward to getting back into the environment, back on the stage, you know watching it all up and running again."
"Most of all I have to say [I miss] just hugging, hugging the fans," she adds. "I hope that we're allowed to hug by then."
Find all of Twain's upcoming shows on her website.