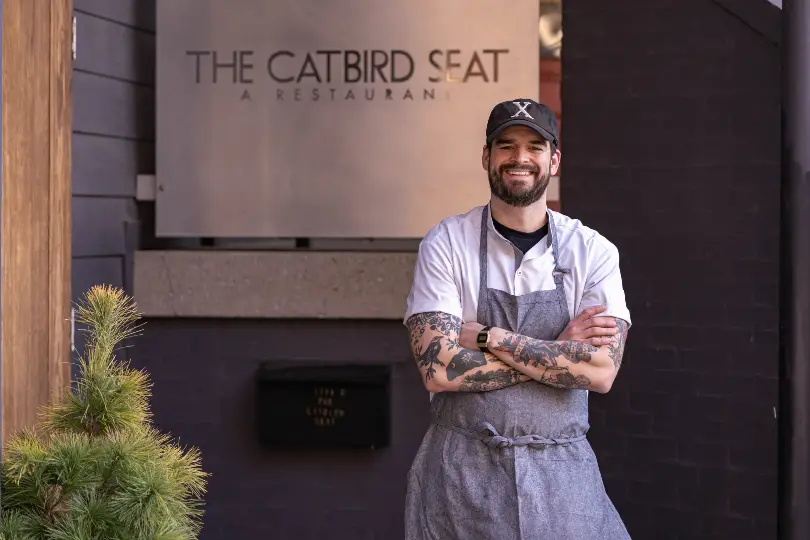 StarChefs has announced their 2022 Nashville Rising Stars, honoring chefs and food industry professionals in Music City who are already showing promises as future leaders of the culinary world. StarChefs, a restaurant industry magazine, will celebrate the rising chefs with Rising Stars Restaurant Week, taking place over two week from May 11 to May 25, giving guests the chance to experience first-hand each of the Rising Stars' signature dishes, drinks, and wine pairings.
21 food and beverage professionals are being recognized by StarChefs this year for both their exceptional food and drinks, but also their contributions to the local Nashville community. The Rising Stars Award winners are chosen by the StarChefs editorial team, based on in-person tastings and interviews. In all of the markets, including Nashville, the editorial team tastes and interviews more than 100 chefs, pastry chefs, bartenders, sommeliers, restaurateurs, and artisans, ultimately selecting a group of 17 to 25 professionals who they believe best represent the future of American dining.
Although Rising Stars Awards are given out locally, award winners are evaluated according to a set of national standards. Creativity, ambition, presentation, philosophy, and most importantly, delicious food, drinks, and/or pairings win the designation of a StarChefs Rising Star.
The 2022 Nashville Rising Stars will be the 76th class of Rising Stars Award winners and the second class from Nashville.
"Big city, small town – Nashville is fertile ground for both locals and transplants seeking an improved quality of life and more opportunity in the F&B industry," Managing Partner Will Blunt says. "The consistent flow of tourism and economic growth, with its wide range of enthusiastic diners and eager palates, means both creative freedom and fuel for an industry that continues to retain its close-knit mutually supportive, small town vibe."
See the list of StarChefs' 2022 Nashville Rising Stars below. Find out more about StarChefs, and the Rising Stars, by visiting StarChefs.com.
2022 StarChefs Nashville Rising Stars Award Winners
CHEFS
● Brian Baxter of The Catbird Seat
● Michael Hanna of St. Vito Focacciaria
● Leina Horii & Brian Lea of Kisser
● Jake Howell of Peninsula
● Colby Rasavong of Audrey
● Pamela Stevenson of Henrietta Red
GAME CHANGER
Presented by S.Pellegrino, the Game Changer category celebrates a chef whose leadership is boldly advancing the restaurant industry, whether it's through boundary-pushing cuisine, an innovative dining format, or a revolutionary business idea.
● Julio Hernandez of Maiz De La Vida
RESTAURATEURS
Presented by Jade Range
● Chad Newton & Gracie Nguyen of You Are Here Hospitality
COMMUNITY
Recognizes professionals who are deeply connected to the local culinary community, dedicate their
time to community outreach, and are ultimately a catalyst for involving members of the culinary
community in important initiatives.
● Bartender Hayley Teague of Hathorne
PASTRY CHEFS
● Keaton Vasek & Michael Werrell of Audrey, The Continental, Joyland, and June
BARTENDERS
Presented by Beam Suntory
● Laura Unterberg of The Fox Bar & Cocktail Club
● Kenneth Vanhooser of Le Loup and The Optimist
SOMMELIER
● Jon Kearns of The Joseph Nashville
BAKER
● Baker Alyssa Gangeri of The Butter Milk Ranch and Urban Grub
BUTCHERS
● Butchers Wesley Adams & Patrick Davidson of Bare Bones Butcher
BREWER
● Brewer Nate Underwood of Harding House Brewing Co.
SAKE BREWER
● Sake Brewer Byron Stithem of Proper Saké Co.
MENTOR
Presented by Vitamix Commercial, the 2022 Class of Nashville Rising Stars anonymously voted on a Mentor Award Winner. The award goes to a chef who supports and inspires young restaurant professionals in their community, for their ability to nurture talent, combined with his generosity, skill, and vision.  Chef Sean Brock is the recipient of the StarChefs 2022 Nashville Mentor Award.
● Sean Brock | Audrey, The Continental, Joyland, and June
BONUS RESTAURANT WEEK STOPS
StarChefs is excited to partner with Chef Matt Bolus and Cervena Venison to create a special stop
during the Rising Stars Restaurant Week to directly support a local non-profit. For each dish sold at The
404 Kitchen during the promotion, StarChefs will donate $5 to The Nashville Food Project.
● Matt Bolus | The 404 Kitchen
EXPLORE NASHVILLE BONUS STOP
Presented by North CarolinaSweetPotato Commission
● Michael Gibson | The Hart at BentoLiving Chestnut Hill