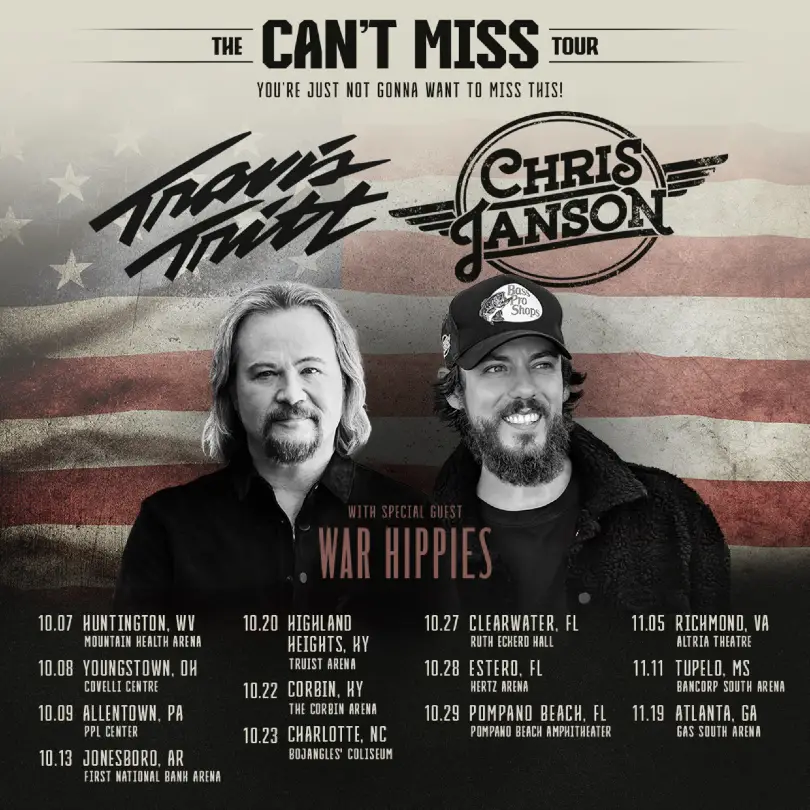 Travis Tritt, and Chris Janson are hitting the road — together! The two Grand Ole Opry members will embark on their co-headlining Can't Miss Tour on October 7 in Huntington, West Virginia, performing more than a dozen dates across the country, with more dates expected to be announced shortly. War Hippies, the newly-formed duo of Scooter Brown and Donnie Reis, will serve as the tour's special guests for all dates.
"I'm really looking forward to the Can't Miss Tour with Chris this fall," Tritt says. "Our high-energy performances complement each other so well. Audiences are going to be thoroughly entertained."
"Excited to be out touring with one of my favorites," adds Janson. "It's gonna be a rowdy fall, and I'm looking forward to it!"
Janson just released his latest All In album, which includes a duet with Tritt on "Things You Can't Live Without." Janson wrote the song with  David Lee Murphy, Deric Ruttan and Chris Stevens, and personally reached out to Tritt to ask him to join him on the track.
"It's rowdy, four-on-the-floor," Jansontold Billboard.  "I remember Travis said, 'I feel like this is something I could have cut in the mid-'90s and had a big hit on.'"
It was important for Janson to include Tritt on his All In album, as a way to honor the songs and artists that influenced the music he makes today, including Tritt.
"Let us not forget what kind of music paved the way for people like me to do my job and make the music I want to make," Janson said. "I want to honor that music. Plus, people love it! That's why they are tailgating to it before they walk into a concert. I want to make sure they get some of that in this modern-day, Chris Janson music."
See a complete list of tour dates below. More information, as well as a list of all of Tritt and Janson's upcoming shows, can be found at TravisTritt.com and ChrisJanson.com.
Can't Miss Tour dates:
Oct. 7: Huntington, WV Mountain Health Arena
Oct. 8: Youngstown, OH Covelli Centre
Oct. 9: Allentown, PA PPL Center
Oct. 13: Jonesboro, AR First National Bank Arena
Oct. 14: Grand Prairie, TX Texas Trust CU Theater
Oct. 20: Highland Heights, KY BB&T Arena
Oct. 22: Corbin, KY The Corbin Arena
Oct. 23: Charlotte, NC Bojangles' Coliseum
Oct. 27: Clearwater, FL Ruth Eckerd Hall
Oct. 28: Estero, FL Hertz Arena
Oct. 29: Pompano Beach, FL Pompano Beach Amphitheater
Nov. 5: Richmond, VA Altria Theater
Nov. 11: Tupelo, MS BancorpSouth Arena
Nov. 19: Atlanta, GA Gas South Arena