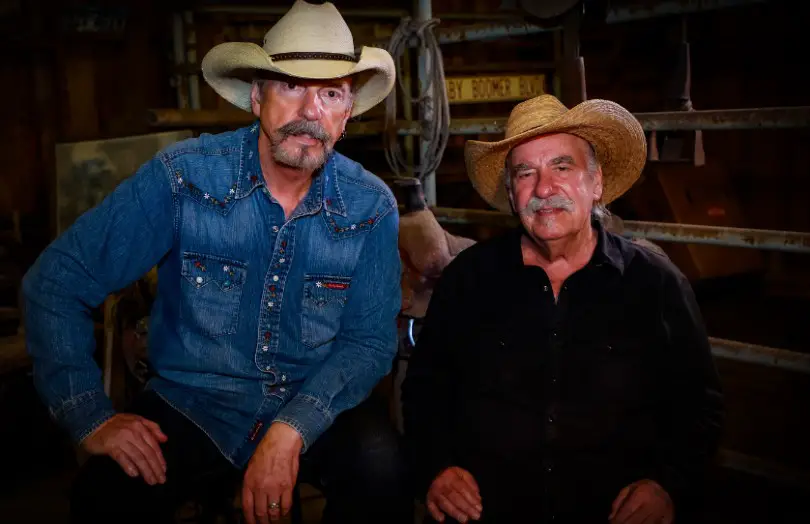 The Bellamy Brothers have been making music for more than 40 years, but that doesn't mean they still can't do something new. The award-winning duo, made up of siblings Howard and David Bellamy, just released their first covers album, Covers From The Brothers, a 12-track collection of songs like "The Most Beautiful Girl," "Knockin' on Heaven's Door," "I Just Called to Say I Love You" and more.
The Bellamy Brothers have spent most of their time on the road, ever since their debut Let Your Love Flow album was released in 1976. But when the pandemic forced them — and every other artist — off the road, The Bellamy Brothers found themselves with unlimited time on their hands, for the first time in therir career.
"We were just in passing one day … I guess we were both kind of thinking about it, and I said, 'We have to do some old standards; some great old songs that we cut our teeth on, songs we were used to doing when we did cover bands, when you couldn't get a gig if you didn't know cover songs," Howard tells Everything Nash. "So we did a lot of these songs in our old band, Jericho. It just evolved — one thing evolved into another."
The Bellamy Brothers had previously released their version of "You've Lost That Lovin' Feeling," in Europe, and quickly realized that they might be on to something.
"We realized, 'Well, it sounds pretty good, 'cause that's kind of a sacred song to touch," Howard acknowledges. "But we did it and I said, 'Well, I think we're going to get away with this.' So one thing led to another and that's how it started."
The list of songs on Covers From The Brothers is quite diverse, which mirrors the decades-long career The Bellamy Brothers have enjoyed, with songs on both pop and country charts.
"We grew up playing a lot of different kinds of music," David shares. "Our first record was a big, huge pop record all over the world, which is what gave us kind of a strange country act, because we were raised very country, and still live on our old farm, and still raise cows. And so, we define country. But we grew up on a lot of different kinds of music, and most of what we always loved was just good songs. It didn't matter if it was a gospel song or if it was a pop song, or what it was. And so we played a lot of these songs in our early band stuff, 'cause that's the way we get the most work is by doing the covers and the hits of the day."
The Bellamy Brothers have released more than 50 albums throughout their illustrious career — a number that is surprising, even to them.
"Sometimes those numbers are staggering to us when we look at them," David concedes. "We don't look at stats too much. Every now and then somebody would remind us."
"I think how you do a lot is you don't think about what you've done," Howard adds. "Always think about what you're going to do, and somebody will remind you of what you have done later on anyway. And sometimes you'll have a moment or something and do a flashback and you'll say, 'Wow, how did I do that?'"
The Bellamy Brothers will go down in history as one of the most successful, and enduring, musical acts of all time, both with their prolific release of records, and their extensive touring schedule, playing in 72 countries all over the globe. Still, for all they have done, there is still much, much more that they want to achieve.
"There's always something that you want to do," David concedes. "We have so many shows, live shows we're still doing. You've got to show up and sing 'Let Your Love Flow' and 'Redneck Girl,' 'cause you'll get lynched if you don't, You know you gotta do that stuff. But there are always things you want to do. We wrote our book [Let Your Love Flow: The Life and Times of the Bellamy Brothers], and released it a couple of years ago, and we've been doing our reality show [Honky Tonk Ranch] for a few seasons now."
2020 marked the first year since 1976 that The Bellamy Brothers were not able to perform in Europe, but now that crowds are beginning to gather again, the siblings say they are more ready than ever to return to a busy touring life.
"We're going to go back and do 18 shows in Norway and Sweden in January," David hints. "And then we have another tour in June, that's going to be most of the month of June. We're going to be in four or five countries around, everything from Lichtenstein to Austria, Switzerland, Germany."
The Bellamy Brothers have certainly done enough that they could retire from the busyness of life on the road, and enjoy time on their Florida ranch, but especially after the challenges of last year, both Howard and David are ready to perform in front of their fans, all acorss the globe, again.
"You reach a point where you've toured these places so many times, it can wear you down, especially when you don't recover from jet lag as quickly as you used to," Howard concedes. "And then there's periods where you go, 'Well, I've been there; we've done all of that. That's enough.' But during COVID, I'd sit down and see some old European, a documentary or something, and then I'd start saying, 'Wow, I really miss that. I mean, I've been there. Oh, I've been there too,' and you start missing it. You didn't realize you ever would miss it again."
Dennis Quaid joins The Bellamy Brothers on "I Can Help." Find Covers From The Brothers, as well as The Bellamy Brothers touring schedule, by visiting their website.
Photo Credit: Courtesy of Adkins Publicity / Derrek Kupish, dkupish productions
Want to watch more exclusive artist interviews? Click HERE to subscribe to our YouTube channel.