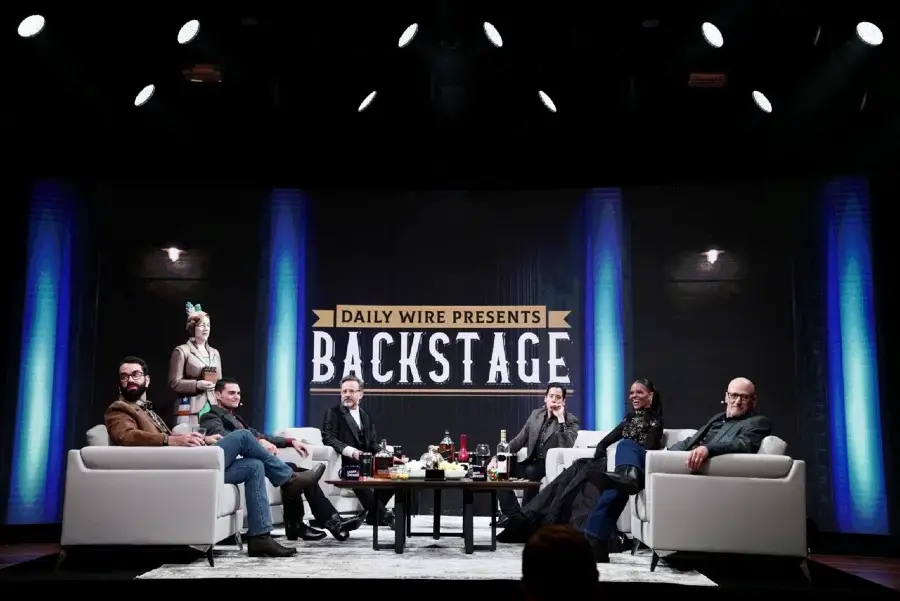 The Daily Wire's Backstage Live event took place in Nashville on Tuesday, October 12, in front of a sold-out crowd at Nashville's Ryman Auditorium. Joining The Daily Wire's Ben Shapiro were Candace Owens, Jeremy Boreing, Michael Knowles, Matt Walsh, and Andrew Klavan, discussing politics, Presidents, the coronavirus pandemic, current events and more.
"People in New York are still terrified. They check your vaccination card in restaurants," Klavan said of the current vaccination policy in the state. "I landed here in Nashville, and when I walked out I said to myself 'Thank God I am in the free state of Tennessee.'"
During the Backstage Live show, the news was announced that comedian Adam Carolla is launching a new comedy show on The Daily Wire platform, with comedy legend Jay Leno as his first guest. The series joins The Michael Knowles Show, The Matt Walsh Show, Candace and Daily Wire Backstage, as well as The Ben Shapiro Show, which are already part of the platform.
"We're going to call it a 'truth gallery' because I tend to get fired up on stage by my comedian friends… I go out and do my 10 minutes of stand-up at the start," Carolla said (via The Post Millenial), adding that the show would include a brief interview of each night's guest.
"And at some point, we'll pull balls out of the hopper," he continued. "Before the show, everyone writes one word down on a ball, just a single word on a ball. It'll go into a hopper and a be like lotto. And the guest will pull the ball, read the word, and I'll do an improvised stand-up set on that one word with an assist (from the guest)."
Also during Backstage Live, the news was announced that a new film, Shut In, will be released, also on The Daily Wire platform. The movie was filmed in Nashville and nearby Watertown, Tennessee. Shapiro, Boreing and Caleb Robinson serve as the movie's executive producers. See a trailer below. Find more information about The Daily Wire by visiting DailyWire.com.
god-king @JeremyDBoreing announces @realDailyWire's newest film: SHUT IN at #BackstageAtTheRyman pic.twitter.com/gwe4U5BdXe

— The Daily Wire (@realDailyWire) October 13, 2021
Photo Credit: Courtesy of The Daily Wire / Daniel Brown