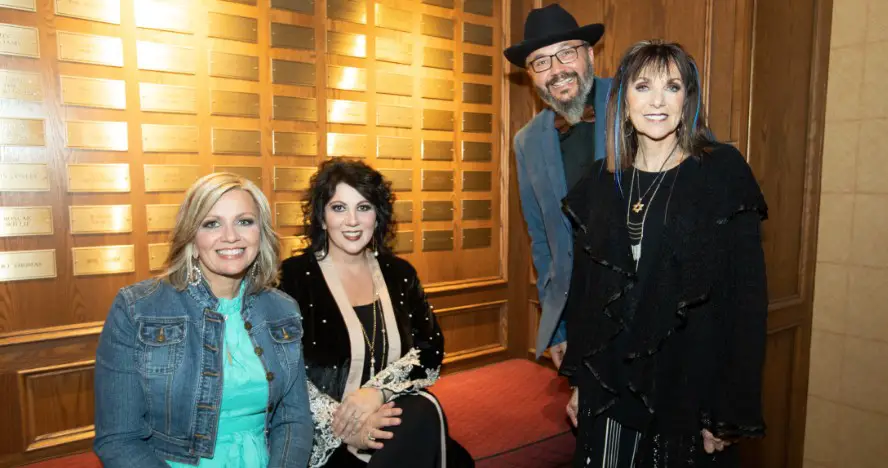 The Isaacs are the newest members of the Grand Ole Opry! The family group, made up of mother, Lily Isaacs, daughters Becky and Sonya, and son Ben, were invited to join by Ricky Skaggs  last month, fulfilling a dream they weren't sure would ever come true.
"It is one of the most humbling experiences in our lifetime," Ben tells Everything Nash. "I did a little research, and in all of the 96 years of the Grand Ole Opry, we are number 216 to be asked to be inductees. So if you think about that for a little bit, as big as the country music world is, or even everything that they appeal to — Americana, bluegrass — it's overwhelming."
The Isaacs began, in its earliest formation, in the early '70s, with the family's matriarch. Their induction into the hallowed institution is a powerful and poignant embrace for Lily, whose parents were Polish-Jewish Holocaust survivors.
"I feel so humble," Lily says. It's like, I want to cry all day … Just humble. That we'd be at that place in our career after 50 years of blood, sweat and tears, it's such an honor. The only way I could explain it, it's like you're so humbled about it that I want to cry all day."
The Isaacs have been regulars on the Grand Ole Opry stage for years, but weren't sure if they would ever be welcomed as official members. Their invitation, already sweet, was even more meaningful because it came from Skaggs, who along with The Whites also inducted them.
"Ricky is a dear friend of ours," Ben says. "We've known Ricky my whole life. I was raised around Ricky Skaggs. He says that he only knew ten minutes before he did it, because he really was not acting weird or anything at all … I always thought, 'How am I going to react if they ask me?' 'Cause we've played the Opry for 30 years, and it's one of those things that you always hoped for, but it hadn't happened."
When the invitation did come, Ben says he "felt like laying down on the circle" and having a good cry after receiving the invitation. It's a similar sentiment that the rest of the members of The Isaacs felt, as they celebrated one of the biggest achievements of their lengthy career.
"Growing up, the Grand Ole Opry was always the pinnacle of success," Sonya reflects. "Just growing up, listening to the Opry, or watching the Opry, and all the people that were on the Opry were the people that had made it, and the people that you always looked up to. God's timing is perfect. And for whatever reason, He has chosen to reward us with this amazing blessing this year. We feel very humbled. We are not puffed up. We don't feel worthy. We feel we have worked hard our whole lives. We're grateful for this honor, but we're certainly humbled that of all the artists that they could have chosen, that they asked us."
For Lily, it's a part of the American dream that is bigger than anything she could have dreamed of for herself.
"I feel honored because I'm an immigrant, and my parents were Polish-Jewish Holocaust survivors," she reflects. "My children are first-born Americans. So we're living the American dream. Just this morning. I noticed my citizenship paper on my dresser, and I got really teary-eyed. I though, 'This is such an honor for our family, to be connected with this big family.' And it just made me kind of sad that my parents wouldn't be here to see how [my children] have grown up."
"It's unbelievable," she added. "I feel like I am really living the American dream today. So that's what it means to me."
The Isaacs' latest album, The American Face, is available at TheIsaacs.com.
Photo Credit: Chris Hollo
For more exclusive artist interviews, click here to subscribe to our YouTube channel.