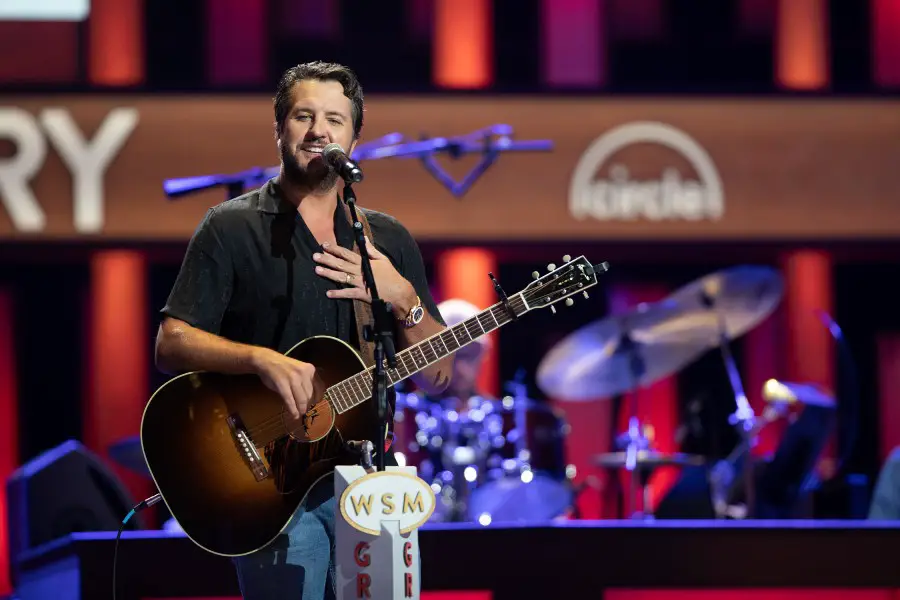 Luke Bryan was one of the many artists who performed as part of the star-studded Loretta Lynn's Friends: Hometown Rising. Proceeds from the event, held at the Grand Ole Opry, went to the United Way of Humphreys County, to raise money for those impacted by the devastating floods that took place in Middle Tennessee last month.
Bryan, who performed both "Drink a Beer" and "Most People Are Good," said he was "very honored" to be part of the event.
Very honored to have been a part of #HometownRising last night. Thanks to everybody who helped make a difference. If you're still looking for a way to contribute, please donate by texting TNFLOODRELIEF to 44321. @Opry @CircleAllAccess pic.twitter.com/vxRX4gXz5o

— Luke Bryan (@lukebryan) September 14, 2021
Other artists who took the stage included Luke Combs, Keith Urban (with a surprise appearance by his wife, Nicole Kidman), Garth Brooks, Trisha Yearwood, Little Big Town, Brittney Spencer, BRELAND and Reba McEntire.
"Thank y'all so much for being here tonight," McEntire said from stage. "It means the world to Loretta and all the folks west of town. I hope we don't ever have to go through this again. I hope the next time we gather like this it's for a fun, joyous time. But let's make it a fun, joyous time and celebrate the ones who are surviving, send the ones on home that have left us, and we'll continue on with good country music and families and friends and neighbors joining together to help each other."
Combs also spoke out about the importance of Hpmetown Rising, which hit very close to home for him.
"I live in midwestern Tennessee myself… and I started seeing all the devastation that happened out where I live," Combs reflected. "When I got the call from Loretta, I said 'whatever I need to do, I'm there. I want to help.' So thank you all for being here tonight."
Brooks, who previously said Lynn called him herself to ask him to participate, closed the evening with a medley of country classics with Yearwood, including "After The Fire Is Gone," "Golden Ring," "Whiskey to Wine," along with Yearwood's "She's In Love With The Boy" and Brooks' "Friends In Low Places."
While a specific amount of money raised has not yet been announced, two autographed show posters raised $20,000, while a guitar strap signed by Urban and Kidman got $75,000, with a little help from Brooks.
Those wishing to still donate can text TNFLOODRELIEF to 44321, or click here. Loretta Lynn's Friends: Hometown Rising is available to watch for a limited time on Facebook.