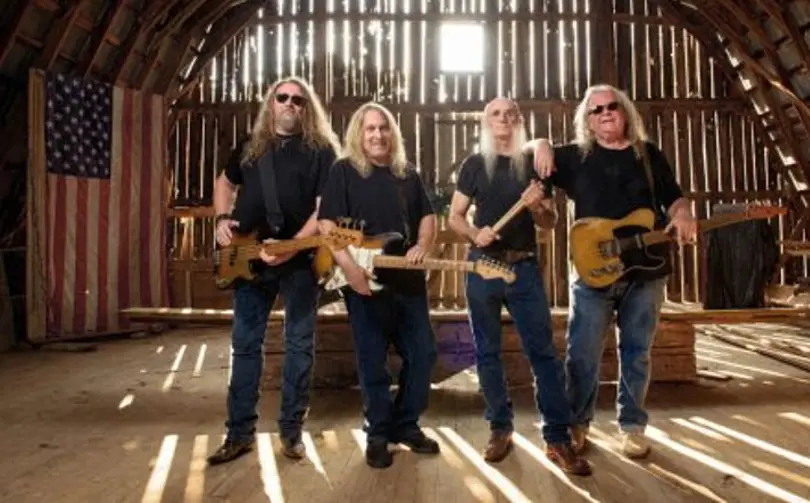 The Kentucky Headhunters just dropped a humorous — and timely — new song, "Let's All Get Together and Fight," and are giving Everything Nash readers the exclusive first look at the lyric video. The song was inspired by band member Richard Young's own family gatherings at the holidays, which he appreciates now more than ever after last year.
"Every year around this time, all families come together for Thanksgiving and Christmas," Young tells Everything Nash. "And if your family is anything like ours, there is always one or two folks that get their feelings hurt, or just plain old disrupt for attention. I must admit, I have snuck many half-cakes in the trash can, to keep one of our family members from getting their feelings hurt, because she was not a county fair Blue Ribbon cook. Kind of like Aunt Bea's homemade pickles on Andy Griffith!
"Like everyone else, we all hunkered down at home in 2020, and didn't have our normal family gatherings. " he continues. "As my wife, Cindy made a crockpot of deer and vegetables, cornbread, and her award-winning broccoli casserole Thanksgiving, it made me realize even more than ever how special family is. Hindsight is 2020, so love each other, and cherish the moments, even if we all get together and fight."
The Kentucky Headhunters recently celebrated a career first, making their debut performance at the Grand Ole Opry, more than three decades after they formed.
"Living just north of the Grand Ole Opry in Edmonton, Kentucky, I guess we never completely understood how fortunate we were to have such a monument of American history at our back door and that folks travel worldwide to come and be a part of the Opry experience," Young said of the honor. "It's kind of like folks who live in New York City who have never visited the Statue of Liberty. That all changed for The Kentucky Headhunters the moment we arrived and stepped off our bus. From the time we entered the Grand Ole Opry, everything became very electric and almost surreal!
"Meeting all the wonderful folks who work there and their help to make our Opry debut a one-of-a-kind experience, as well as the Opry crowd's response to our performance, was nothing short of overwhelming," he added. "I must say the cherry on top was to see how proud our family and friends were of us to accomplish this wonderful milestone in our musical career. We kinda felt like Dorothy when she landed in Oz!"
Find all of The Kentucky Headhunters' music, as well as their upcoming shows, by visiting their website.
Photo Credit: Courtesy of Absolute Publicity / Joe McNally