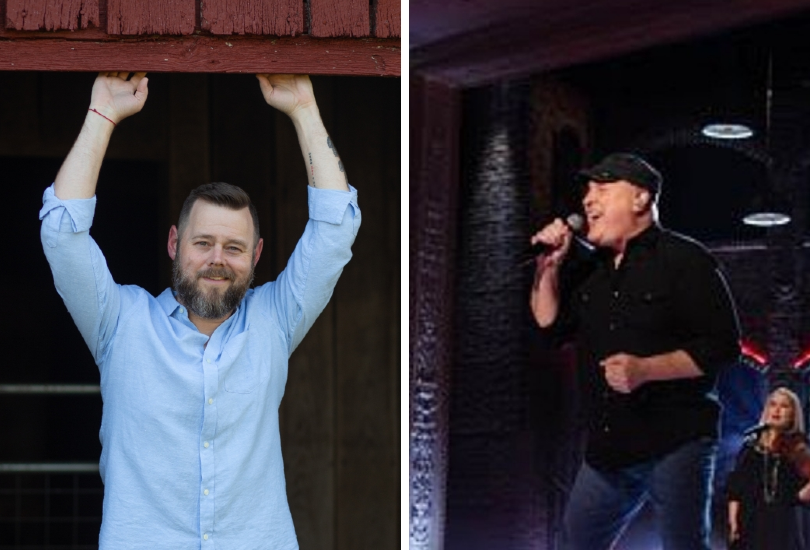 New music is coming from Todd Tilghman and Collin Raye! Tilghman, who teased the collaboration on social media in November, reveals that the two will release a duet of Raye's first No. 1 hit, "Love Me," originally released in 1991.
"In the first part of the year, I'm releasing 'Love, Me' as a duet with Collin Raye, the original 'Love, Me,'" Tilghman tells Everything Nash. "I had a meeting with Collin, and let me say he is just really so nice. He's so nice that we were immediately friends, which means we were immediately deep into conversation … I  said, 'Listen, we can talk all afternoon. This is all I have in the afternoon, but before we do that, the reason that I asked you to meet with me is because I would love to get with you, not do it on my own, but you and I together cut one of your classics, like 'Little Rock' or, or 'Not That Different,' or 'That Was a River,' or any of them.'"
Tilghman, who performed "Love, Me" on The Voice, didn't immediately suggest the iconic song, which was  suggested by Raye instead.
'I didn't know if we should do something different, but he spoke up and said, 'Well, we've been talking about something special to do for the 30th anniversary of 'Love, Me,'" Tilghman recalls. "'I feel like this would be perfect.' So he and I are cutting 'Love, Me' in the first part of the year together."
Tilghman also hints there might be another collaboration in 2022 as well, this one with his coach on The Voice, Blake Shelton.
"There's still a very good possibility that Blake and I are gonna collab on something," Tilghman teases. "He and I just talked a little earlier today. I just keep praying. He's very favorable to it, but Blake is literally, to quote Dolly Parton. Blake is literally busier than a one-legged man in a butt-kicking contest. Blake, I feel like he would do it. He's actually very favorable to it. He's just so busy …. We haven't tracked it or anything. I'm gonna release a collaboration with Thunderstorm from Season 18, who was on the show with me."
In addition to new collaborations, Tilghman is also celebrating the release of his debut album, with his Old Photos at Christmastime EP.
"The reason that it's a Christmas album is because a non-Christmas album, I'm still not fully 100 percent sure what that looks like," Tilghman tells Everything Nash. "And number two, I love Christmas, and I love Christmas music, and pretty much everything about Christmas. I understand there are parts of it that can be stressful, and I understand that it's a time of year that is tough for a lot of people, and so I try to be respectful of that, but I love it."
Find all of Tilghman's music, as well as his upcoming shows, by visiting his website.