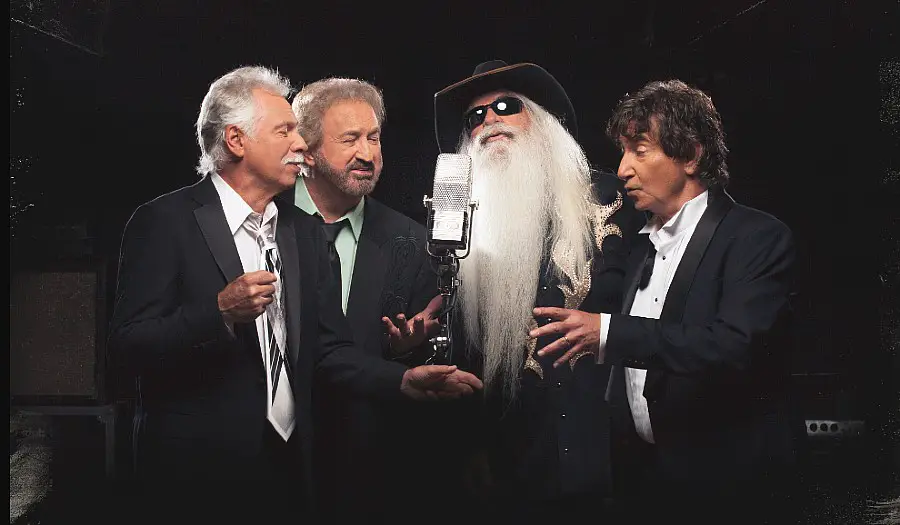 The Oak Ridge Boys just released a brand-new song, "Love, Light and Healing," inspired by the challenges of the previous year. The song is from an upcoming new album, Front Porch Singin', out on June 11.
"We just wanted to do that chorus strong," Joe Bonsall tells People of recording the song. "It fits so well right now. It's about reminding people that life is beautiful and marvelous. Home, family, faith – it's all still there. Let's sing about it. Let's feel it. Hang on. Everything is ok."
The songs from Front Porch Singin' were recorded largely during the pandemic, when the group, which also includes William Lee Golden, Duane Allen and Richard Sterban, were forced off the road for the first time in more than 45 years.
"This project is quite honestly one of the most heartfelt albums we have ever recorded," Bonsall says in a press release. "It was a bit strange to social distance from each other in the studio, but I believe it drew us all closer and in doing so we may have inadvertently recorded the perfect project for this time period. These songs, whether new or old, reflect a certain optimism and a deep-seated faith that God will work all of this out as we move forward. Life is beautiful as one song says. We must embrace it and celebrate it with all of our being."
The title of the new set of tunes, which was produced by Dave Cobb, came from the shared history the four members have together, relationships that became even more solidified within the last year.
"This title has become more of an attitude than anything else," Bonsall notes "What if the four of us were sitting on a porch together and someone begins to sing a favorite old gospel song, like 'Swing Down Chariot,' or a country and western standard like 'Red River Valley,' and everyone else just joined in? That is what happened at RCA Studio A. But, as usual under producer Dave Cobb's leadership, this album turned into so much more."
See a track list for Front Porch Singin' below. Pre-order the album here.
Front Porch Singin' Track Listing:
01. Life Is Beautiful
02. Love, Light, And Healing
03. Old Ways
04. Promised Land
05. Red River Valley
06. Life's Railway To Heaven
07. Rock My Soul
08. Swing Down Chariot
09. 'Till I See You Again
10. Unclouded Day
11. When He Calls