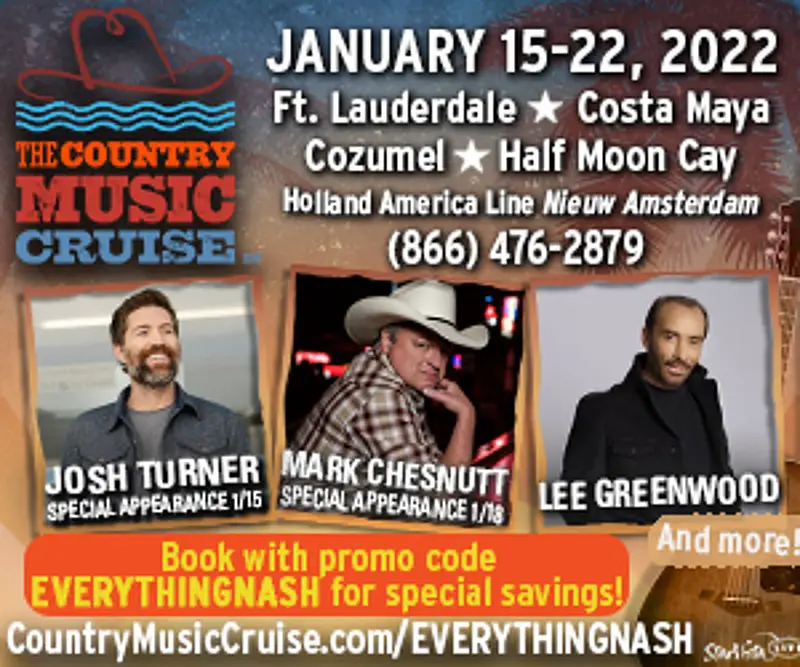 The 2022 Country Music Cruise is still several months away, but it's already promising to be one unforgettable week, complete with concerts, meet and greets, activities and more. We spoke with several of the artists, including the Oak Ridge Boys' Joe Bonsall, Lee Greenwood, Jeannie Seely and Wade Hayes, about what makes the Country Music Cruise so unique, both for the artists and for country music fans.
"It's the music," Bonsall tells Everything Nash. "If you love country music, and if you love performances, what a bonus to be on the ship on the ocean, and stopping at a few beautiful islands along the way. And nobody ever starves to death on a cruise ship. On the Country Music Cruise, you can eat from the time you get up in the morning until the time you go to bed at night, if you want to. The food is excellent, the rooms are excellent. The view of the ocean going by is just fabulous. But it's the music."
Greenwood, who admits he gets a bit seasick, still enjoys the cruise as much because he gets to meet fellow country music fans as he does the music.
"The Country Music Cruise is really awesome because you have all these country stars. and we're all accessible," Greenwood says. "We have multiple shows on the ship while we're there … We'll be on the boat; we're not just going to get on the boat and perform and get off. We're actually on the boat."
Seely also loves the cruise because it gives her a chance to sit down with her fans, both new and old.
"That is just absolutely a joy," Seely boasts. "I don't know if the fans realize how much they do mean and that we want to get to know them. And they're always so respectful. The only time it ever bothers me is when I'm eating and my food is getting cold, and I have this much time to get something to eat. But the fans are so respectful on these cruises. It's a fun time for everybody. I can't wait."
For Hayes, he loves the Country Music Cruise as much as a fan as one of the numerous performers.
"There are many, many reasons people should go. Number one, there's a lot of great music. Nearly everybody on there, I love their music. Of course that's not counting Johnny Lee. He's the one that I'm leaving out because he's rotten," Hayes says with a laugh. "But everybody is really good, and you get to interact.  I'm excited about it too. I get to see people. The fans, I get to hang out with them and visit with them.
"And there are plenty of things other than music to do," he adds. "The off-ship excursions are awesome. It's a lot of interaction and the people on the boat you become friends with. A lot of people have been multiple times, and you get to be friends with them. We enjoy it, all of us too. I look forward to every year."
The 2022 Country Music Cruise will set sail on January 15 from Ft. Lauderdale, with stops in Costa Maya, Cozumel and Half Moon Cay before returning on January 22. Other performers include Neal McCoy, Sawyer Brown, Mickey Gilley, Jimmy Fortune, Billy Dean, Asleep At The Wheel, Ashley Campbell, John Schneider and more. Headliners Josh Turner and Mark Chesnutt will also make special appearances on the ship's main stage while in port in Ft. Lauderdale, Florida and Cozumel, Mexico, respectively.
A limited number of cabins remain. For more information, and for exclusive pricing, visit CountryMusicCruise.com/everythingnash.