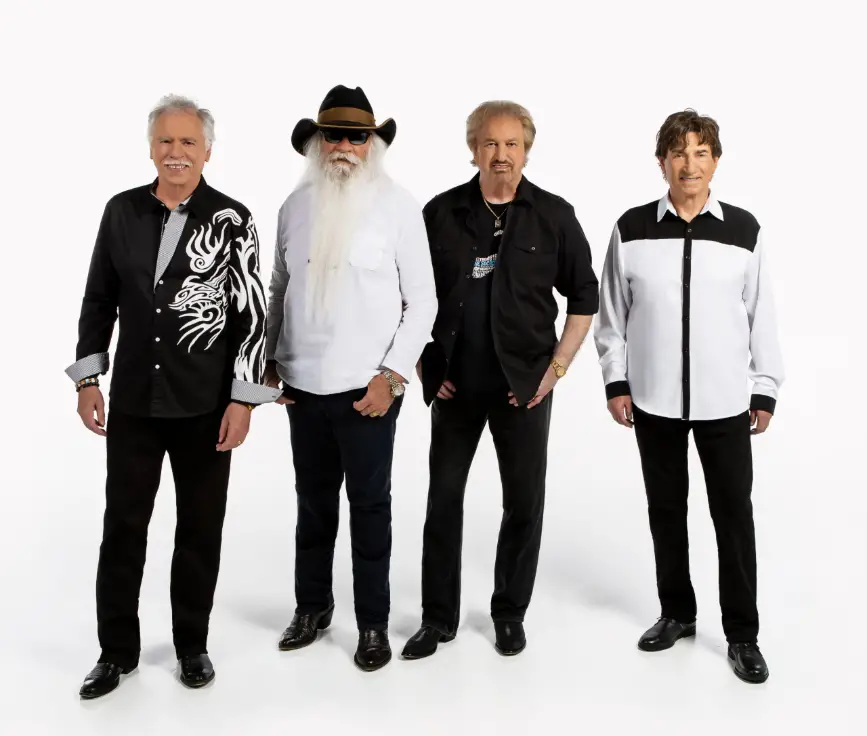 The Oak Ridge Boys are back with new music! The historic group just released the gospel classic "Swing Down Chariot," from their upcoming album, Front Porch Singin'.
"There's nothing like a spiritual to bring hope, to bring optimism and solace during troubling times,"  Oak Ridge Boys' Joe Bonsall says of the song. "Keeping with the Front Porch Singin' attitude, we must credit producer Dave Cobb for the album direction. Cobb challenged us to come up with an old gospel song that we have known for years but never performed. When we gathered behind the microphones and gave him 'Swing Down Chariot' we all knew it was the one."
The Front Porch Singin' title was inspired in large part by the coronavirus pandemic.
"This project is quite honestly one of the most heartfelt albums we have ever recorded," Bonsall previously said. "It was a bit strange to social distance from each other in the studio, but I believe it drew us all closer and in doing so we may have inadvertently recorded the perfect project for this time period. These songs, whether new or old, reflect a certain optimism and a deep-seated faith that God will work all of this out as we move forward. Life is beautiful as one song says. We must embrace it and celebrate it with all of our being."
Front Porch Singin' became the perfect literal and figurative title for their latest set of tunes.
"This title has become more of an attitude than anything else," Bonsall says. "What if the four of us were sitting on a porch together and someone begins to sing a favorite old gospel song, like 'Swing Down Chariot,' or a country and western standard like 'Red River Valley,' and everyone else just joined in? That is what happened at RCA Studio A. But, as usual under producer Dave Cobb's leadership, this album turned into so much more."
The Oak Ridge Boys will be part of the star-studded Country Music Cruise, which sets sail from Fort Lauderdale on January 15, and will visit Costa Maya, Cozumel and Half Moon Cay, before returning on January 22. Other artists appearing on the Country Music Cruise include Neal McCoy, Josh Turner, Mark Chesnutt, Jeannie Seely, Billy Dean, Wade Hayes and more. Visit CountryMusicCruise.com and use the code EverythingNash for special pricing.
Front Porch Singin' will be released on June 11. It is currently available for pre-order here.