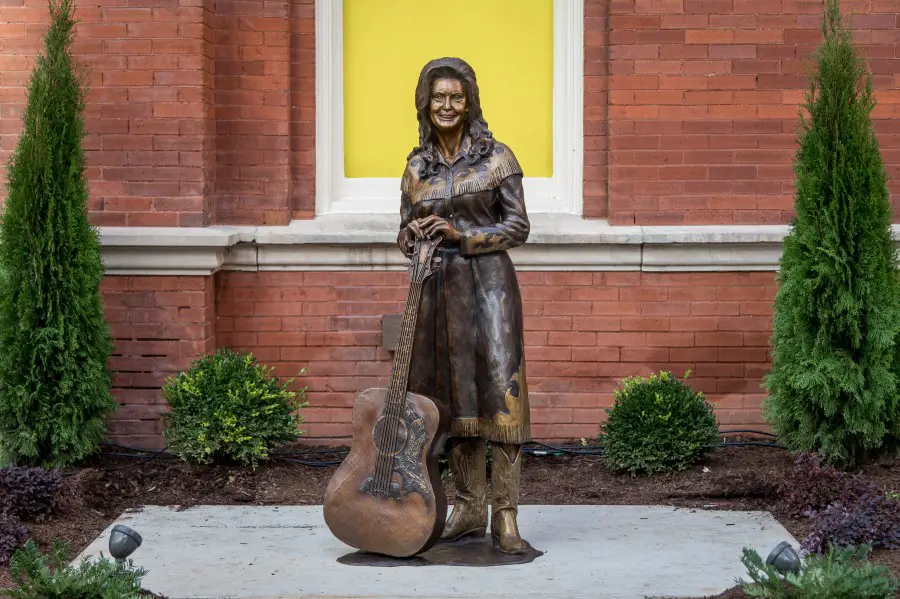 Loretta Lynn's life and career is being honored with a new statue at the Ryman Auditorium, on their Icon Walk. The statue was displayed during a ceremony, shared on the Ryman's Facebook page, on Tuesday, October 20. Loretta spoke about the honor in a statement, which was read during the unveiling.
"My dream, like thousands of other singers, was just singing on the Grand Ole Opry. Being a member of the Grand Ole Opry has been one of the greatest honors of my life. Many years I've stood on the stage of the Ryman Auditorium, and there's no place like it. Now they're unveiling the statue in my honor. It's like I'm going to get to be there for many more years to come.
"It means so much to me to have the statue, and to be a part of all these wonderful artists," she continued. "One day soon, I'm going to get to come to the Ryman, and see it for myself. But for today, I want to say thank you, and I love each and every one of you, for thinking of me."
The ceremony began with a message from the Ryman Auditorium's General Manager, Gary Levy.
"From 60 years ago, when she made her debut, in September of 1960, and she famously slept in her car across the street, before making her Grand Ole Opry debut here at the world-famous Ryman Auditorium, to the 1980s movie hit, Coal Miner's Daughter, and all the way to her sold-out shows at the Ryman Auditorium in 2017, the first lady of country music, Loretta Lynn, her contributions to country music and to this building remain some of the most impactful and enduring of any artist that has ever played here," Gary said.
"To this day," he added, "we welcome guests who make that pilgrimage to Nashville, just to stand in the spot where Loretta's career took off, here at the world-famous Ryman Auditorium."
Loretta is no stranger to awards and accolades. The 88-year-old is a member of the Country Music Hall of Fame, the Grand Ole Opry and the Songwriters Hall of Fame. She won three Grammy Awards, 13 ACM Awards and eight CMA Awards, including winning Entertainer of the Year in 1972, making her the first female artist to take home that trophy. She also received the Kennedy Center Honors, given to her by President George W. Bush, in 2003.