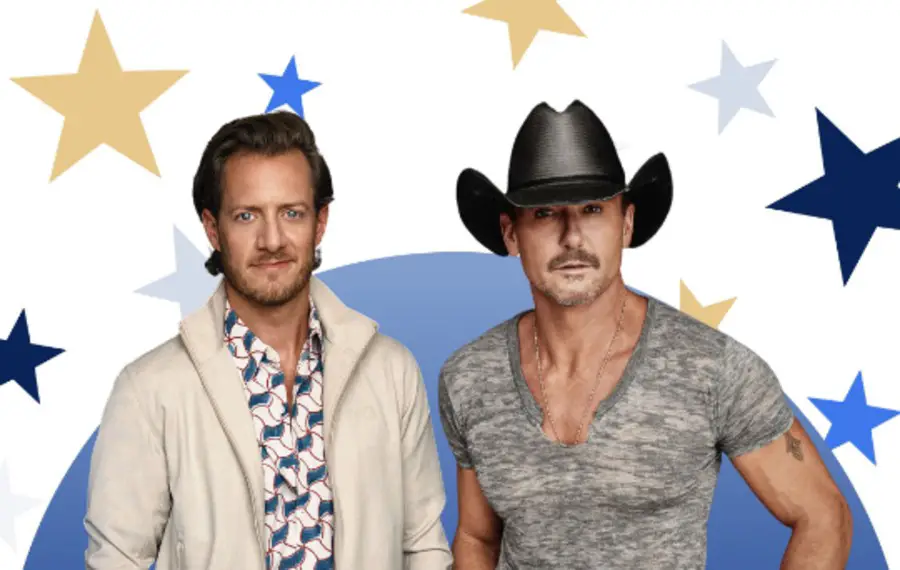 Tim McGraw and Tyler Hubbard just released "Undivided," but the song is already getting plenty of attention, including by the country's future President. The two singers will perform the powerful song for the TV special, Celebrating America, hosted by Tom Hanks.
McGraw announced the news on social media.
Honored to be performing at the inaugural "Celebrating America" special tomorrow night with @THubbmusic! Starts at 8:30pm ET/PT, and will be hosted by my friend @tomhanks. #UNDIVIDED pic.twitter.com/RQnqgSSTg0

— Tim McGraw (@TheTimMcGraw) January 19, 2021
McGraw recently spoke out about the song, which Hubbard wrote while quarantining on his bus after contracting COVID-19. Although McGraw instantly agreed to record the song, he had no idea how timely "Undivided" would become only weeks later, when a riot occurred at the nation's Capitol.
"The Capitol thing was something that I don't know that I've processed well enough to put into words yet," McGraw told  CBS This Morning. "It's so sad and so profound, and something that I never thought I would see in this country. But the song, it speaks to more of a social contract that we have with each other. It's not about politics. It's about how we're supposed to treat each other."
Still, the father of three is still optimistic about the country's future, in spite of the recent setbacks.
"We have a great country full of great people and this song is about the social fabric that we rely on and the social contracts that we rely on to get along in this world, in this life, in this community together," McGraw told Entertainment Tonight. "And I think we've gotten away from that a little bit and I think we're going to get back to it, and hopefully, if this song is just a drop in the bucket to help in that along the way, then I think Tyler and I would be very proud."
McGraw and the Florida Georgia Line frontman aren't the only artists participating in the inauguration celebration of President-elect Joe Biden and Vice President-elect Kamala Harris. Garth Brooks recently announced he would also perform for the inauguration ceremony. Other artists performing include Justin Timberlake, Jon Bon Jovi, Demi Lovato and Ant Clemons.
Celebrating America is a televised special, taking place on Wednesday, January 20, in lieu of the traditional inaugural balls, which have been canceled due to COVID-19. Celebrating America will air at 8:30 PM ET on ABC, CBS, CNN, NBC and MSNBC, as well as all of the Presidential inaugural committee's social media channels.