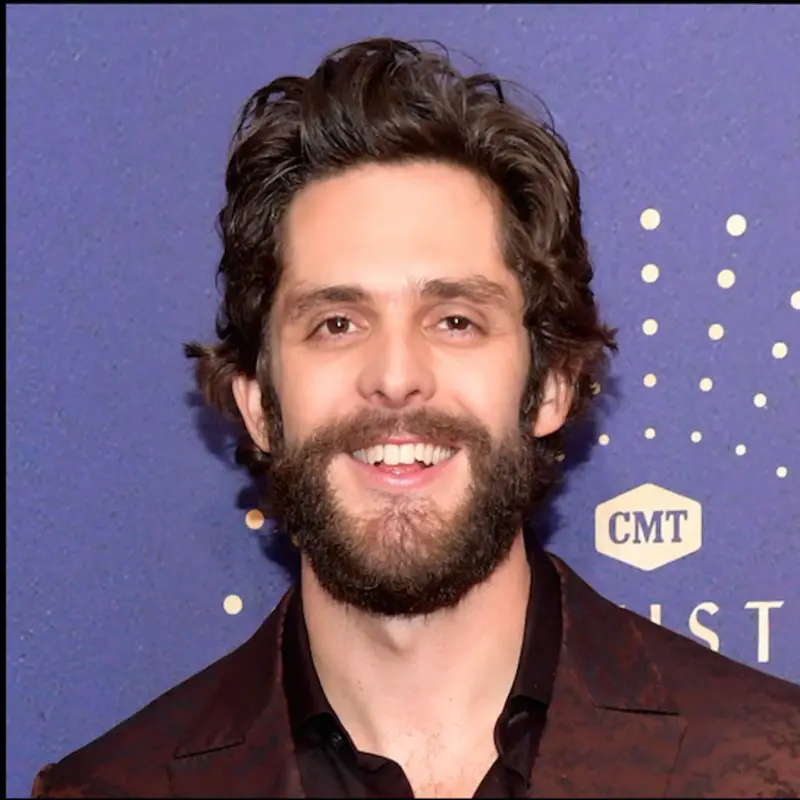 Thomas Rhett grew up in country music, and is steadily making his mark as one of the biggest hitmakers in the genre. In honor of his 32nd birthday, we're learning more about the superstar with these 11 fun facts.
1. His first band was named the High-Heeled Flip Flops.
Music is in Rhett's blood. The son of singer Rhett Akins, Rhett first learned to play the drums while in middle school, and his father would sometimes let him come on stage and perform. Fueled by that early lure of being in front of a crowd, Rhett formed a band, called the High-Heeled Flip Flops, which was definitely not country.
"I was so into punk rock, I started a band in sixth grade called the High-Heeled Flip Flops," he revealed on SiriusXM. "I was the drummer. We all dyed our hair black and sang in British accents."
2. He loves Zaxby's.
Rhett loves Zaxby's a lot. Like, a lot. So much, in fact, that he once did a Zaxby's commercial with Brett Eldredge.
"For me, that was a dream come true," Rhett told Country Countdown USA of the gig. "I grew up in Valdosta, Georgia, where one of the first Zaxby's existed. My grandmother took me there sometimes twice a day. Still to this day I'd rather eat at Zaxby's than Kayne Prime. It's my favorite place to eat."
3. He wants more kids.
Rhett and his wife, Lauren Akins, are already proud parents to four girls: Willa Gray, Ada James, Lennon Love and Lillie Carolina, but there might be a few more children in their future.
"It is very stressful, I feel like, to travel with your kids and still know that you're waking up at six and you're also playing a show at night," Rhett previously admitted to ABC." So in that aspect I'm going, 'I love my two kids and I'm kind of content.'
"If we stopped having kids now, I know I'd wake up at 45 and go, 'We should have had five more,'" he added. "Because I really do want to be able to sit at a Thanksgiving or Christmas table with the most gigantic family on the planet."
4. He will never appear on Dancing With the Stars.
Rhett wanted to put on the best show for his fans as possible, which for him meant taking dance lessons. While he is known for his nonstop live — and choreographed — shows, Rhett says he would never appear on Dancing With the Stars.
"I don't think I would," Rhett told Taste of Country. "Me and my wife have talked about it actually … I'm like, 'I'm not sure I could lean some chick back while you're over there and feel good about that.'"
5. He once got in trouble by Reba McEntire.
Being the son of a country music star meant he got to know a lot of other celebrities as well, including Reba McEntire, who once put him and her son Shelby both in time-out!
"Reba's son, Shelby [Blackstock], I think we're about the same age, and we were at their Halloween party one year," Thomas recalled to BMLG. "I remember us racing back and forth to this barn, and I think I kept beating him in this race. I think he was a little bit older than me and bigger than me, and he put me up against the wall, around my neck.
"And I remember Reba coming over and snatching Shelby off of me and putting us both in time out," he continued. "I mean, I had to have been five, maybe five, to be put in timeout. I hope that I wasn't like, nine or something and I was in timeout."
6. He studied Communications at Lipscomb University, before dropping out to pursue music.
Rhett's parents' marriage failed in part due to long periods of separation because of his dad's career, so his mother, Paige, made him promise he would not pursue music. Rhett instead enrolled in Lipscomb University in Nashville, studying Communications, but quickly realized his heart wasn't in it.
"The hardest part was telling her I dropped out of college — telling her I quit something I'd been doing for three years," Rhett recalled to the Chicago Tribune. "Like any mom would, she asked 'Why did we spend all this money on college?' I didn't plan for this. I didn't know the opportunity would present itself. But now she's my biggest fan."
7. His parents are divorced, but still good friends, and even vacation together.
Rhett's parents divorced when he was only nine years old, but they have worked hard to remain amicable, even celebrating holidays together.
"Don't ever badmouth your ex because that is their father and you married him for a reason," Rhett's mother revealed on the Today Show. "They have some good in them, so just keep all that to yourself. We were both very good at that, and I think my kids, they came through it. We've always kept it amicable and even now, we spend Christmas together, and go on ski trips, and to the beach. If you create problems there, it creates problems for your kids."
8. He knew in elementary school that he would marry Lauren Akins.
Rhett knew very early on that he wanted to marry Akins. The two dated in sixth grade, and even then, Rhett had a feeling she was The One.
"I mean, me and Lauren have definitely been to school together since we were in first grade but didn't really know each other really well until church camp about sixth grade," Rhett revealed. "And I fell in love with her that day. I was like, 'There is not a prettier human being that exists in this world and I will figure out a way to marry this woman one day.'"
9. His wife's father gave him an ultimatum about asking her out.
Rhett might have been madly in love with Akins, but they both dated other people after high school. In fact, Rhett and Akins were both dating other people when Rhett confessed his feelings to her, thanks to an ultimatum her father gave him.
"It was a sliding door moment, where it could have gone the other way," Rhett recalled to Hits Daily Double. "We were dating other people. In another world, we might have married them. But there was always something different about Akins, and we both felt it, but we never figured it out. The night of her sister's graduation party, we were buddies and I was there. I'd loved that girl since high school, and I told her father how I felt.
"He said, 'If you don't tell her, I'm going to,'" he continued. "It was a total Ryan Gosling moment. I said to her, 'I just want to kiss you one time. If you don't feel anything, we can go back to being friends.' I've learned this: It's wise to confront things instead of holding them in. That creates resistance instead of resolution."
10. He has written songs for other artists.
Rhett has written most of his own hits, but he's also written songs for other artists. One of his first cuts was "I Ain't Ready to Quit," which was on Jason Aldean's 2010 My Kinda Party album. Rhett wrote the song with Jaron Boyer and Ben Stennis, two then-aspiring writers as well, who have also gone on to have more success.
"I would say that was a huge turning point in my life," Rhett said (via Songfacts). "I'd been writing songs for about five or six months pretty hard, and I was trying to balance songwriting and school – which was a pretty hard task. I wrote it with two other guys who had never had a cut, so for three no name writers to get our first cut on the Album of the Year was an incredible experience as an amateur songwriter."
11. Florida Georgia Line's Tyler Hubbard knew Akins was pregnant with Ada James before he did.
Akins had been trying unsuccessfully to get pregnant when the couple decided to adopt Willa Gray. Before the adoption was finalized, Rhett and his wife went on vacation to Africa with Tyler Hubbard and his wife, Hayley. Akins started feeling ill and, convinced she had food poisoning, decided to take a pregnancy test while Rhett was working out — and was stunned when it was positive.
"I'm jumping up and down, Tyler's giving me a bear hug and Hayley's running out of their room and I'm like, 'Thomas Rhett is not even here!'" Akins told People.