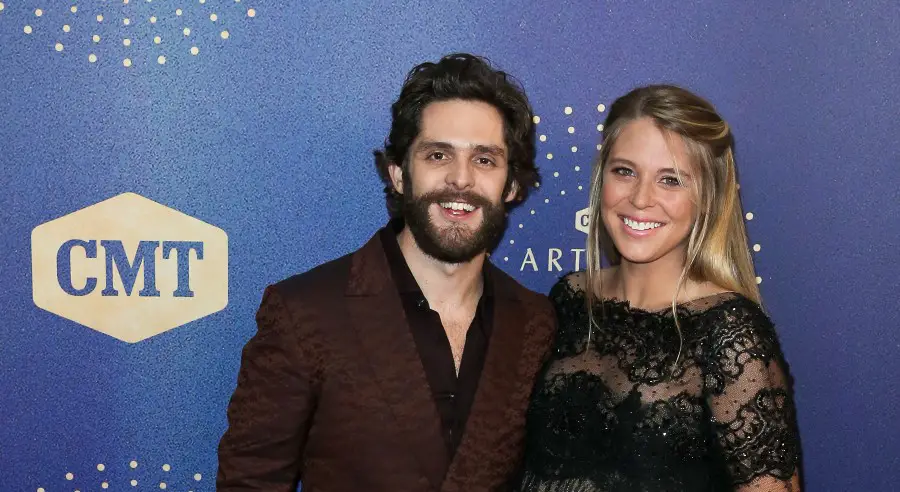 Thomas Rhett's mother, Paige Lankford, knew pretty early on that her son would marry Lauren Akins. In fact, she hints that she might have known even before her oldest child and his now-wife knew, and she couldn't be happier with her daughter-in-law.
"They dated a little bit when they were freshmen, and then she broke his heart, and he was dramatic," Paige reveals on the Today Show. "Then they both went on to date amazing people the rest of high school, and even into college, but Thomas Rhett and Lauren were always best friends. When they both ended up broken up from the people they had dated all the way through high school and college, basically he knew, Thomas Rhett knew, and Lauren did not know that she loved him until they kissed.
"And then from that moment, it was probably six months before they got engaged," she adds. "Thomas Rhett is who he is because of Lauren, and Lauren is who she is because of Thomas Rhett."
Thomas already had a successful career by the time he and Lauren became parents to Willa Gray, via adoption from Uganda, in 2017, which is when Paige realized her son was finally a capable adult.
"I think when they came home with Willa Gray, and I saw the way he interacted with her, and then them having Ada, and the way he is as a dad, to me that's the part where I'm like, 'He's good. He is a good kid. He gets it. He knows how to do all of this,'" she shares. "Those moments really make you go, 'Hey, I did something right.'"
That something right also included being kind toward Thomas' father, Rhett Akins, whom she divorced when Thomas was nine years old. Fortunately, Thomas' parents remain friendly, a decision they made early on to make life easier for Thomas and his younger sister, Kasey.
"Don't ever badmouth your ex because that is their father and you married him for a reason," Paige says she advises others. "They have some good in them, so just keep all that to yourself. We were both very good at that, and I think my kids, they came through it. We've always kept it amicable and even now, we spend Christmas together, and go on ski trips, and to the beach. If you create problems there, it creates problems for your kids."
Paige admits the early years, at home with two small children while Rhett was on the road, were not easy. So she was understandably not excited when her son decided to leave college, studying communications at Lipscomb University in Nashville, to pursue music full-time.
"He came home and said, 'You need to sit down for this one,'" Paige recounts. "I'm like, 'What?' He said, 'I'm gonna drop out of school and sign this writing deal.' I was like, 'No, we're not going to do that. You only have a year and a half left.' I even went and met with the publisher, the guy that was signing him, and to this day, he's like, 'I've never had a mom sit across from me.' I was like, 'Listen, I did not want him to drop out of college, so this better be worth it.' And then from there he got offered record deals, and the rest is kind of history."
Now that her son is the reigning ACM Entertainer of the Year (a title he shares with Carrie Underwood), Paige couldn't be more proud of her son, and the person he is on and off stage.
"It is crazy," Paige admits. "I remember being at one of his first big stadium-type shows, and I'm like screaming like a fan. But then you look around, and it's like, all these people are here, listening to your child. It's a crazy, very surreal feeling, and I know that word is used a lot, but it really is."