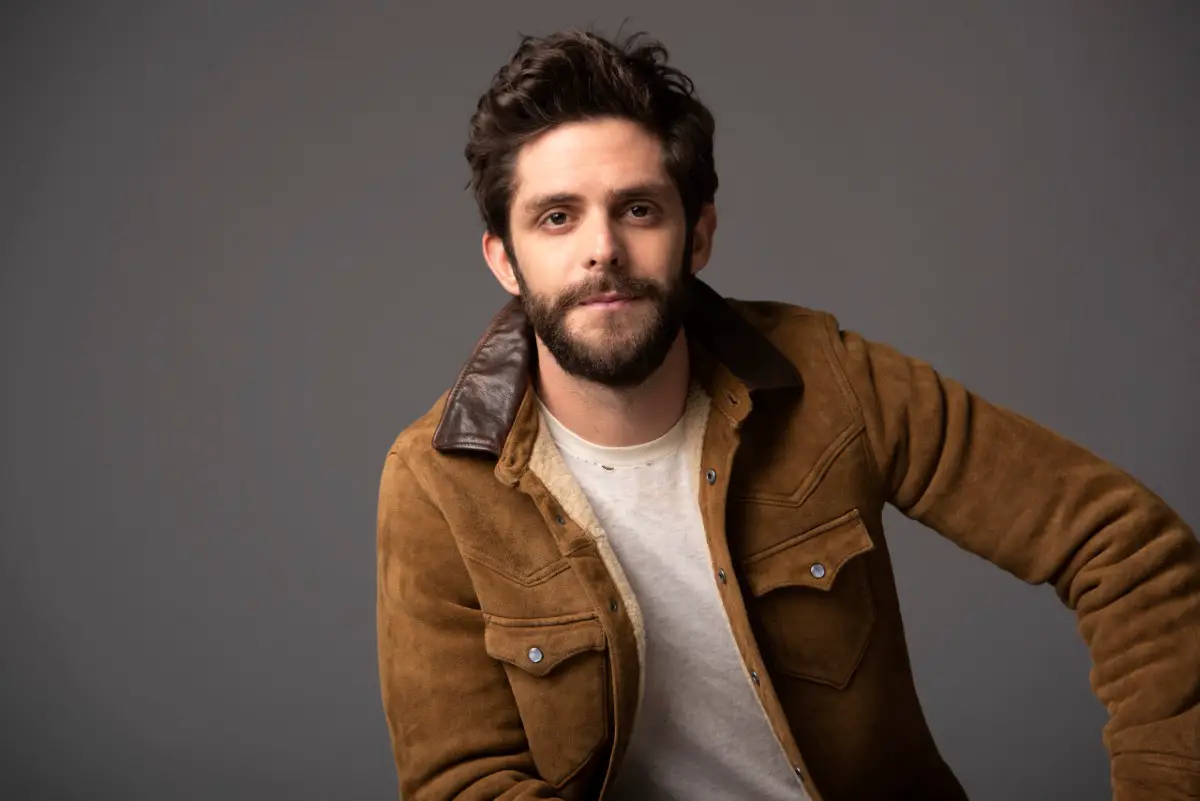 Thomas Rhett recently announced the release of a double album, Country Again. The record, Rhett hints, will be slightly different than the music he has released in the past. It's the music he has been wanting to release for a while, but never found the courage to do so, until now.
"This shift in me has been happening since the beginning of 2019," Rhett revealed on Apple Music Country's Today's Country Radio with Kelleigh Bannen. "There were just certain things in my life that I cared about so heavily for the last decade that I just didn't … I don't want to say I didn't care about anymore, but I cared way less about them. There were just bits of success and bits of ways that I measured success that just didn't matter anymore.
"It was just like I've been doing nothing but grinding and working my butt off and comparing myself, just like we all do," he continued. "And then there was one day where I was just like, 'Why do I care? Why do I always chase something, with a lot of these records that I make?' The music just started to kind of shift into something that I was trying to do when I was younger, like as a 19-year-old who had just signed a publishing deal, but I hadn't lived enough life yet."
Now that Rhett is a father of three, his perspective on almost everything has changed, which comes out clearly on Country Again.
"There are so many things that have happened in this decade that I have never really written songs about," Rhett reveals. "I mean, I've been nostalgic for sure in my music, but it's 11 songs that I feel are just so much more back to what I was doing when I first started out in this business, back in the day when I was listening to nothing but Eric Church and really wanting just to be him, minus the sunglasses. I don't think I can pull those off ever."
Rhett grew up on country music, thanks to his father, Rhett Akins, but it's Church who fueled Rhett to be the best songwriter, and artist, that he could be.
"Obviously, he's one of the most amazing songwriters that I've known in my time," Rhett boasts of Church. "But I think the way that he can take things happening in his life, and also take things happening in his past, and also take things that have never happened to him before but probably have happened to a lot of people and make them so relatable. And I feel like that's what I've tried to do so much in my music is make it relatable … I think that's the reason I love Eric so much and obviously just watching him perform is just — it's just mysterious. You go from Chief to 'Springsteen.' And the way that he can kind of just get all over the map while staying cohesive to what Eric Church does is to me, the version of a real artist.
"If I think back to all my favorite artists from the past, whether it's the Beatles or the Rolling Stones or Led Zeppelin, they were always shifting and they were always changing," he added. "So this change for me on Country Again is not so much of a change but more so kind of a 360."
Rhett already shared a few tracks, including "Want It Again" and "Growing Up," as well as his single, "What's Your Country Song," from Country Again, a decision that he admits was initially terrifying for him.
"The day that you tease a record, I start to go into this pit of just like, 'Good Lord, is anybody going to like it? Is anybody going to like it? What are the comments going to be?'" Rhett acknowledged. "For the first time ever, I mean, I want people to like it for sure, but I know that I like it. And that's kind of what matters to me now if that makes any sense … It's very freeing. It makes it so much more fun."
Country Again Side A will be released on April 30. Pre-order the record at ThomasRhett.com.