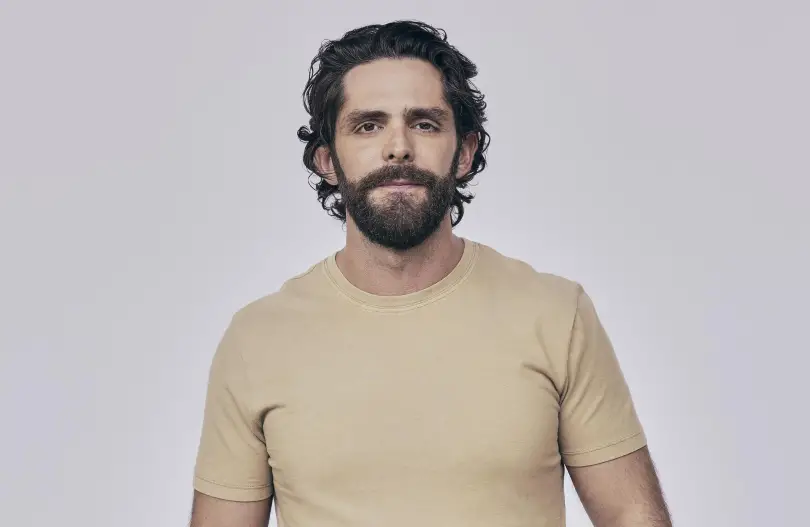 Thomas Rhett has a new album coming out, which includes a duet with a major pop star! The father of four announces that his Where We Started album will be released on April 1, with Katy Perry joining him on the record's title track.
"I don't know how this happened, but having a Katy Perry feature on this was mind-blowing to me," Rhett shared with Everything Nash and other outlets during a virtual media event. "Allison Jones at the label sent it to her, and she immediately was like, 'When do I put my vocal on it?' And I'm sitting there going, 'Really?' I think my mind was just kind of blown. I've always been such a fan of hers, and to have her on here I think really escalated the emotion of that track. It's a song that I think a lot of people are going to relate to, and a lot of people are really going to enjoy."
Rhett gave his approval to have "Where We Started" sent to Perry, but he never imagined she would not only respond, but quickly agree to sing on the track with him.
"Literally within 24 hours. Katy responded and said, 'I love this. I resonate with this so well,'" Rhett remembers. "And when she put her vocal on, it took her like two weeks. She really put a lot of time and effort into this vocal, and it's one of the best. I mean, she's an incredible singer, but this kind of reminded me of how amazing of a vocalist she is. I just felt like it really came to life."
Rhett is not only proud of "Where We Started," but of all of the songs on the upcoming project, writing all but one. The tracks on Where We Started feel like a full-circle moment for Rhett, as he reflects on almost a decade of being a mainstay in country music.
"These are songs that I felt like were the songs I was writing at the beginning of my career, and now have turned into something that I feel like I can put my stamp on and be like, 'We really did a great job writing those songs,'" Rhett says. "And I think from a sonic standpoint, this record is extremely versatile. I feel like if you enjoyed my Center Point Road album, I think you're going to really enjoy this record as well. It's a lot of just great songs that remind you of your past, and also a lot of songs that make you want to party. And those two coming back to back to back to back make for a really unique listening experience."
Rhett wrote and recorded Where We Started with his fans in mind, but it's his daughters who became the biggest influence in his new music.
"My biggest goal is to make sure my kids don't get bored with my records because that's very easy for a five-year-old to do," the father of four shares. "I just love the versatility of this record. Sonically, I feel like we took it to a new level in the studio, and I feel like all the session players really had my vision in mind, and really executed it really well. I think this is going to be a record a lot of people are going to enjoy."
Rhett has already released "Slow Down Summer" from Where He Started. The record also includes collaborations with Riley Green, Tyler Hubbard and Russell Dickerson. See a track list below, and find all of his music here.
Where We Started Track List:
1. "The Hill" | Lori McKenna, Jordan Reynolds, Emily Weisband
2. "Church Boots" | Thomas Rhett, Jesse Frasure, Ashley Gorley, Ernest Keith Smith
3. "Bass Pro Hat" | Thomas Rhett, Matt Dragstrem, Joshua Miller, Josh Thompson
4. "Anything Cold" | Thomas Rhett, Jesse Frasure, Ashley Gorley, Shane McAnally
5. "Angels" | Thomas Rhett, Julian Bunetta, Jaten Dimsdale, Josh Thompson
6. "Half Of Me" (featuring Riley Green) | Thomas Rhett, Rhett Akins, Will Bundy, Josh Thompson
7. "Bring The Bar" | Thomas Rhett, Rhett Akins, Jesse Frasure, Ashley Gorley, Parker Welling
8. "Paradise" | Thomas Rhett, Matt Dragstrem, Ernest Keith Smith, Josh Thompson
9. "Death Row" (featuring Tyler Hubbard, Russell Dickerson) | Thomas Rhett, Zach Crowell, Ashley Gorley
10. "Mama's Front Door" | Thomas Rhett, Matt Dragstrem, Ashley Gorley, Chase McGill
11. "Slow Down Summer" | Thomas Rhett, Rhett Akins, Sean Douglas, Jesse Frasure, Ashley Gorley
12. "Simple As A Song" | Thomas Rhett, Luke Laird, Josh Thompson
13. "Us Someday" | Thomas Rhett, Rhett Akins, Jesse Frasure, Amy Wadge
14. "Somebody Like Me" | Thomas Rhett, Rhett Akins, Matt Dragstrem, Josh Thompson
15. "Where We Started (with Katy Perry) | Thomas Rhett, Jon Bellion, Jesse Frasure, Ashley Gorley