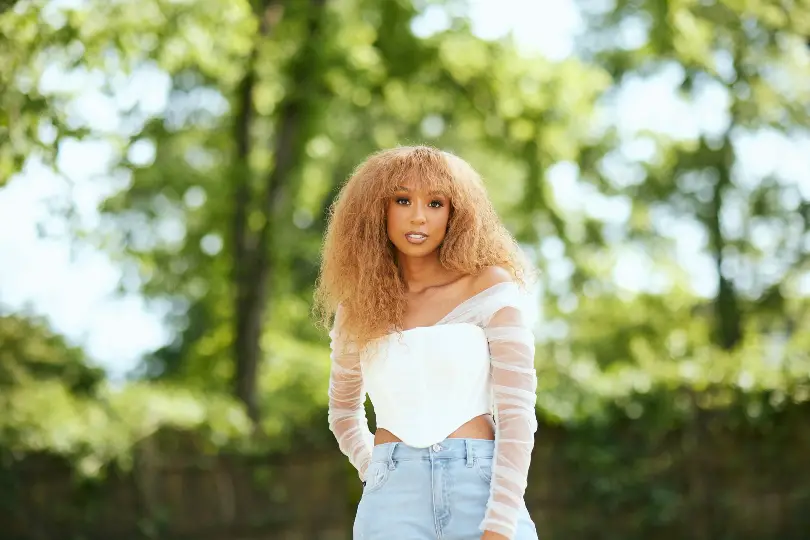 Tiera Kennedy is making her mark in country music. The rising star just released "Found It In You." The song, out on Big Machine Label Group, is her introduction to country music fans to who she is as an artist, songwriter, performer and person.
"'Found It In You' is a special one," Tiera tells Everything Nash. "I wrote it with my producer, Cameron Bedell, and it was our first write together. And, it was just a two-way, and those can be kind of scary because, with the first write, you never know how that's gonna go. And then with the two-way, it's like, there's no escaping. But thankfully it turned out amazing. And we wrote one of my favorite songs I've ever written."
Tiera is no stranger to the music scene, releasing songs independently before signing with BMLG. But it's with "Found It In You" that Tiera feels she can authentically define what she wants to say, and how she wants to say it.
"I've been trying to figure out what my sound was for a really long time," Tiera explains. "And when we wrote that song, I felt like I had finally found it, no pun intended. I grew up listening to a lot of R&B, because that's what my parents would play around the house.  I've always loved country music. And my producer, he grew up listening to the same kind of music. So that's kind of where I feel like I found my sound in that song."
Tiera didn't have to look far to find the inspiration for "Found It In You." The song was inspired by her deep love for her husband, Kamren, whom she wed in 2021, after dating for seven years.
"I just kind of sat down and started talking about all the things I love about my husband," Tiera recalls of penning "Found It In You." "He was just my boyfriend at the time, but I started listing off all these things I love about him, and we put it into a song, and that is 'Found It In You.'"
Tiera is also the flagship artist on songwriter Nicolle Galyon's Songs & Daughters Publishing company. For Tiera, it's important to her to write songs that she dreamed of when she was a little girl, pulled to the music by Taylor Swift, and her gift of telling stories.
"When I start started writing, I was listening to a lot of her stuff," Tiera recalls. "When I started writing songs, I didn't necessarily know that it was country. I was just writing songs, and the songs that I would listen to were country; that's just what I had naturally gravitated towards. This is so random, but growing up in Birmingham and performing around town, I found this group of bluegrass guys that would play at our local Guitar Center. It was like a local guitar store, and then they would play at Chick-fil-A. And so I started playing these, we called them writers rounds, but they were really like cover rounds, because we would just sing cover songs.
"And so I would come in with like my teeny bopper songs for them to play with me with, and they're like, 'We don't really know this, but we'll try,'" she adds with a laugh. "But they were like, 'Let me show you what classic real country is.' And that's where I learned Johnny Cash's 'Ring of Fire' and just all of those classic traditional country songs. I feel like they really just taught me what that was."
Find "Found It In You" and all of Tiera's music by visiting her website.
Photo Credit: Courtesy of BMLG / Kevin & King