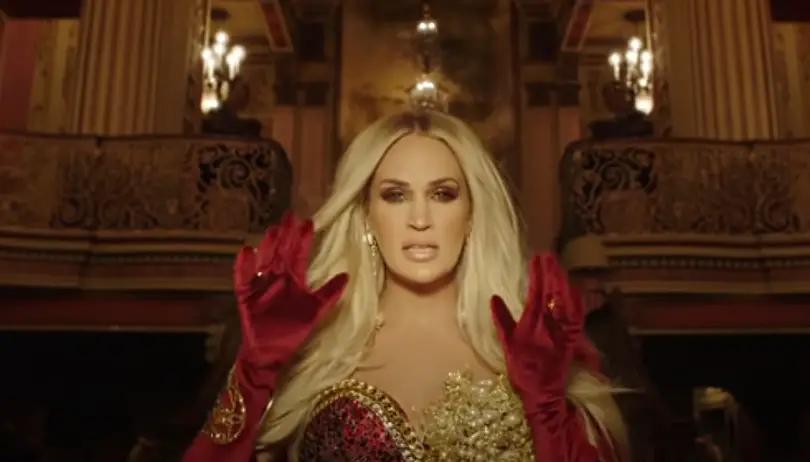 Carrie Underwood is known for her theatrical videos, dating all the way back to some of her earlier hits, like "Before He Cheats," "Blown Away," "Two Black Cadillacs" and more. Underwood continues her love of making a full production in the video for her current single, "Ghost Story," and hints there will likely be more storytelling from future tracks off of her latest Denim & Rhinestones album.
"The music video, if you're gonna usher in a new era, I want to do it big," Underwood shares with her record label. "I don't know what the next ones are gonna look like, but that one I was like, we can kind of go over the top, but that's what we wanted. We wanted it to be beautiful and imaginative, because I feel like the song is a lot of really great imagery that's written into the song. We just wanted to kind of bring that to life. It was a fun day shooting the video, but the trapeze was unexpectedly difficult. It doesn't look difficult, but it's really difficult."
Underwood shared her newly-learned trapeze skills with the world, when she and Jason Aldean performed their "If I Didn't Love You" duet together at the 2022 ACM Awards, and Underwood descended from the ceiling. But the Oklahoma native really illustrated her trapeze skills when she performed "Ghost Story" at the CMT Music Awards.  Underwood was inspired to do the daring feat, thanks to her Reflections Las Vegas residency.
"I would see our aerialists perform every night in our show, so it came from a place of envy — jealousy and envy," Underwood told Billboard. "They get to fly and it's so beautiful, graceful and athletic. I was like, 'I would like to try that sometime, just for my own self.' Then I had the idea of wanting to do that for 'Ghost Story' and I got together with our choreographer Brenda and I could tell she was assessing me and seeing if I was strong enough to do that.
"I went home and worked on my own and I feel like I had to do a little bit of convincing everyone around me like, 'I'm not going to fall. I feel really confident, I've got this, trust me,'" she continued. "Then everyone got excited about it. I worked a few more times with Brenda and felt very comfortable with it."
"Ghost Story" is currently in the Top 15 on the charts. Underwood will kick off her The Denim & Rhinestones Tour on October 15 in Greenville, South Carolina, with Jimmie Allen serving as her opening act. Find music and tour dates at CarrieUnderwoodOfficial.com.