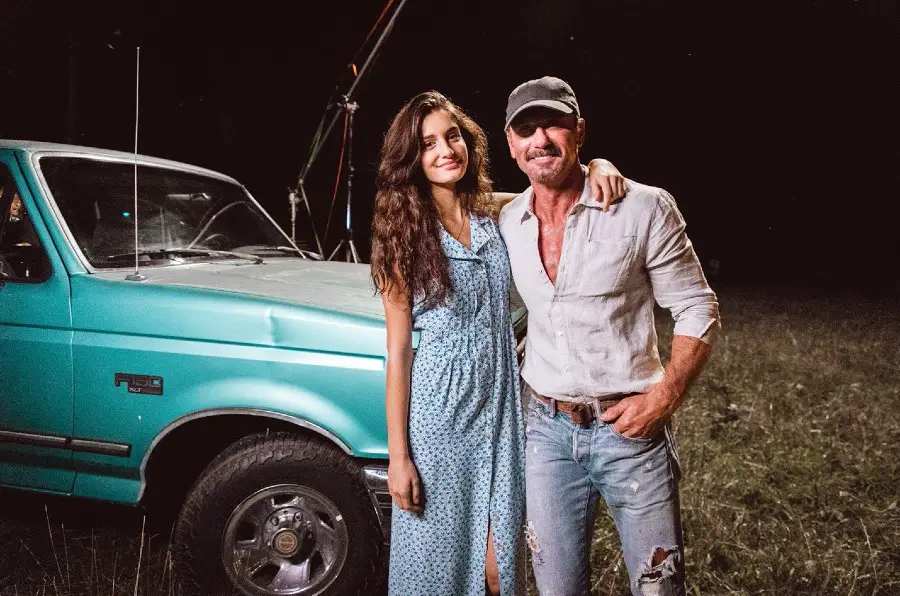 Tim McGraw just dropped the music video for his latest single, "7500 OBO." The video became a family affair for McGraw, who enlisted his youngest daughter, Audrey, to star as the video's lead, marking the 19-year-old's acting debut.
"I've done a lot of videos in my career, but this is pretty cool," McGraw said on social media. "When the idea for this video came in for '7500 OBO,' instead of it being  a story about a guy and his truck, we made it a story about a teenage girl and her truck."
It wasn't McGraw's idea to use Audrey in the video, but when it was suggested to him, he immediately went to his wife, Faith Hill, before he even asked his daughter.
"When the treatment came in, they really wanted my youngest daughter, Audrey, who's 19, because they had seen photos of Audrey, who does some modeling and stuff. First of all I asked the boss, my wife, and then I asked Audrey, after Faith approved. That was one of the coolest things I'd done, is work with her in the video, and just watch her perform. and watch her act. My girls are the light of my life. They're the sweetest things in the world, and I'm just so proud of her."
Here's the story of how our youngest daughter Audrey got cast in the video for #7500OBO.  So proud of all our girls. Was real special to work together on this one. pic.twitter.com/zT89xT4X7f

— Tim McGraw (@TheTimMcGraw) August 15, 2021
McGraw might be proud of his daughter's work in the "7500 OBO" video, even if there is one scene that made him more than a little uncomfortable: when his daughter kisses the man who plays her boyfriend in the video.
"I'm not calling that a make-out scene," McGraw said on social media. "That's just a nice little peck on the cheek after a date. I tried to yell 'Cut,' but I didn't get there quick enough. I guess I'll let him slide on this one. It's not easy for a dad."
Audrey was thrilled to be able to star in the music video, in part because it gave her a chance to work with her famous father.
"I was really interested in it. To be part of one of dad's music videos sounded like it would be really fun," Audrey said in a behind-the-scenes video shared on YouTube.
"I just liked that it had a clear story, and it had a clear story, and it had clear emotion," she continued. "There's so much affection to the car, but it shows that it's not just about a car. It's about memories; where you've been, where you are, where you're going. I liked how it portrayed all of it. You can let go of the memories and still move forward."
"7500 OBO" is from McGraw's 2020 Here on Earth album. Find all of his music at TimMcGraw.com.