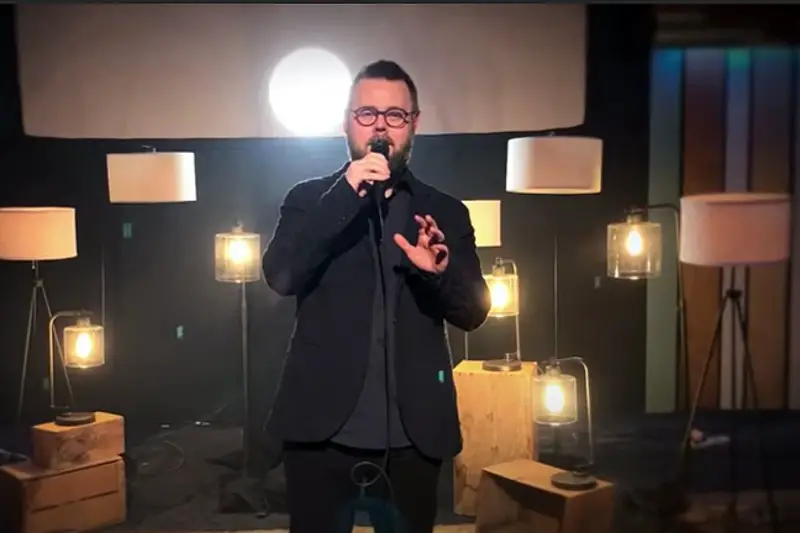 Exactly one year ago, Todd Tilghman made his debut on The Voice. The Mississippi native, who was ultimately crowned the winner, auditioned for Season 18 of the reality TV talent show, singing Bob Seger's "We've Got Tonight."
Within seconds of his first notes, Blake Shelton, Kelly Clarkson and Nick Jonas turned their chairs around, with John Legend also turning his chair around by the end of the chorus.
"I am married for 21 years. We have eight kids. Two are adopted," Tilghman told the coaches following his performance, revealing that he was a pastor, and this was his first performance outside of the church.
All four coaches praised Tilghman for his unforgettable performance.
"I was the last one to turn, but once I turned, I saw the joy and the spirit that you have," John Legend said.
"I'm actually a pastor's kid," added Nick Jonas. "Most of my fond memories were with my dad at the piano singing praise and worship songs … We can talk life, music. I don't have kids yet, but you can give me some advice there."
Jonas also said that the day of Tilghman's audition happened to be his first day on the job,
"Your excitement is so fun to watch," he said. "Thank you for giving me that experience. That was really special."
Clarkson tried to sway Tilghman as well, saying, "It's a lot to hold down being a parent and trying to achieve this kind of dream. I grew up singing in church too. I love that you have that Chris Stapleton, Kenny Rogers rasp. You were a 110 percent in it."
But it was Shelton whose passion for Tilghman ultimately convinced him to join Team Blake.
"I love your voice," Shelton gushed. "I love the passion. I love the range. I love how not smooth it is, because it gives you something to get a hold of. You've got a great hop … You are so amped up, and it reminds me why I continue to want to be a coach on the show, is to work with people like you."
Tilghman spoke out about the milestone anniversary on social media.
This premiered one year ago today and changed my entire life. And I am forever grateful to everyone who has been a part of it. The best is yet to come! @NBCTheVoice @blakeshelton #TheVoice https://t.co/ltXZAC6LYR

— Todd Tilghman (@todd_tilghman) February 24, 2021
"This premiered one year ago today and changed my entire life," Tilghman posted. "And I am forever grateful to everyone who has been a part of it. The best is yet to come!"
Tilghman won The Voice on May 19, although his victory was from his own home, since contestants were forced to continue the competition remotely, due to the coronavirus pandemic. While they didn't get to finish the show in person, Tilghman still developed a close relationship with Shelton — one that continues today.
"He's been a friend to me," Tilghman later told People. "We got to laugh together and share little, stupid stories about life. That's what I was hoping for when I picked him. I was hoping that if I were to make it further in the competition, that we could actually build a relationship with one another. And that's what we did."
Since winning The Voice, Tilghman has moved from Mississippi to Tennessee, while he works on new music.
"So much music is coming," Tilghman tells Country Now. "I spend a lot of time writing and recording. The plan (as of now) is to release a single every four to six weeks until June. Then release an EP, or even full album, with a couple bonus tracks — possibly including some collaborations with some exciting artists."