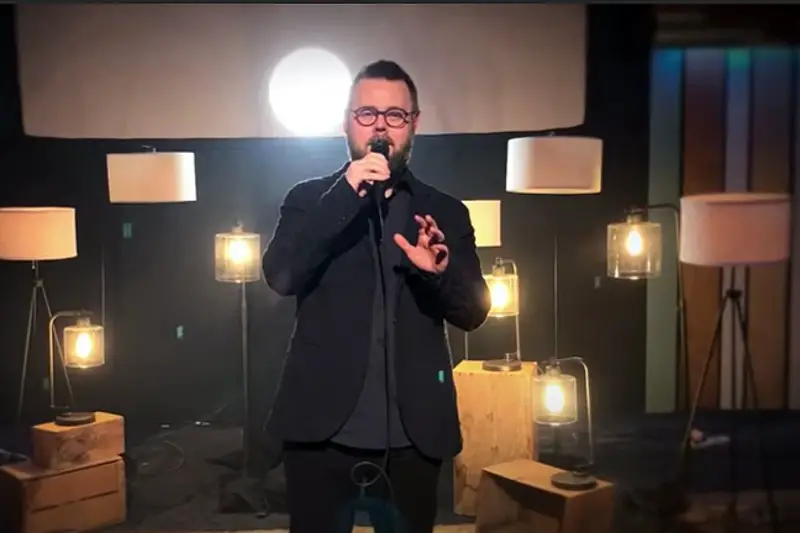 When Todd Tilghman tried out for Season 18 of The Voice, neither he nor his wife, Brooke, thought he would actually win. The father of eight only wanted to get to the live auditions on the reality TV talent show, never imagining he would actually be crowned the champion.
"Once we made the live shows, that was kind of gravy from there," Tilghman tells Everything Nash. "That was our goal. We just assumed there was no way we could win. So once we made the live shows, everything was sort of gravy. It literally was step-by-step: 'I would love to get a blind audition.' 'I really would love for at least one chair to turn.' And then after that, then the final step for the show was if we could just make the last show."
For Tilghman and his wife, Brooke, there was never a moment when they could fully relax and enjoy the process, because of the uncertainty of what would come next.
"Every step of the way there was fear and worry, because even in the Blind Auditions, everybody doesn't get a Blind Audition, because of course when the teams fill up — you have no way of knowing," Brooke shares. "I remember Todd just had such anxiety that [he had] put all this hard work in. You feel like you've got this amazing opportunity and then you don't even get a shot. And that happens to some people. We're just so thankful that God saw fit and The Voice believed in Todd enough to give him a shot. And here we are. We're just very grateful."
Even Brooke, who is the one who encouraged her husband to try out for The Voice, wasn't sure he would actually make it far on the show, but not because of her doubt in his abilities as a singer.
"I try to let people know, it's not that I didn't think going into it that Todd is phenomenally talented enough to win," Brooke explains. "You just don't expect these things to happen. And I'm honestly a risk-taker. I'm the gas, he's the brakes. So I'm always pushing Todd to try something out of his box. It's just one of those things that I thought would be a fun story … A big thing in our life is we always felt like even if something was going good, always the other shoe will drop. So I think going into The Voice, that was a big win for me.
"That was a big thing God showed me," she continues. "In the very beginning, He was like, 'Brooke, this is going to be good. The bad thing is not going to happen.' For me, it was just a phenomenal experience from top to bottom. I never could imagine; we just wanted really at first, just for him to be able to get a Blind Audition. And then it went from there to just a one-chair turn. Then it was, we just wanted to make the live shows. Then we just wanted to survive COVID."
The Tilghmans chronicle their unique journey in their new book, Every Little Win: How Celebrating Small Victories Can Lead to Big Joy, including early marital troubles, two international adoptions, a critically-ill child and more. Every Little Win is available for purchase here.*
*Everything Nash has an affiliate relationship with Amazon, which means we may receive a small commission from purchases made through links on this page, at no additional cost to the authors or consumers.