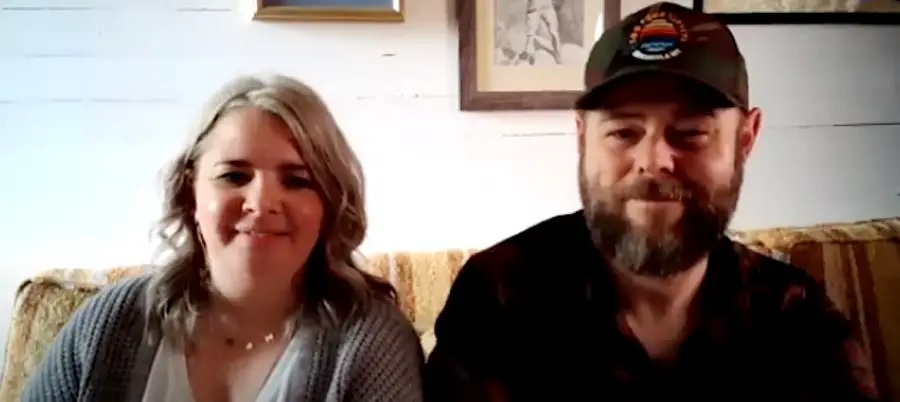 Todd Tilghman and his wife, Brooke, open up about their personal journey in their upcoming new book, Every Little Win: How Celebrating Small Victories Can Lead to Big Joy. The couple chronicles their lives, from their early days of marriage, parenting eight children, being in ministry, and through his time on The Voice, which he won in 2020. Every Little Win became a labor of love for the Tilghmans, who were unafraid to share their own stories, even the ones they are still processing.
"We kind of thought, 'Who would read a book about us?'" Brooke admits to Everything Nash. "Right after The Voice happened, Tricia Goyer, who co-authored this book with us, she has a podcast, or a blog, and she contacted me to come on her podcast. That turned into her saying, 'Let's write a book.' I'll be honest. I thought, okay, let's write a book. It's not really going to happen. We'll throw around the idea. It'll be fun to say, 'Hey, somebody says they want to write a book about us.' But the ball got rolling pretty quickly. We were in this thing,  it's been a blast."
Even Tilghman admits he was unsure if Every Little Win would actually be written.
"Even once the ball got rolling. I hate to say it, but I just kind of thought nothing would really come of it," Tilghman concedes with a laugh.
The fact that Every Little Win will hit bookshelves next month is just one of many events that have happened in their lives, ones they could have never predicted.
"Just like The Voice," Brooke reflects. "We think it'll just be a fun story that we can tell people that Todd did. And I think Todd's phenomenally talented. You just don't think — crazy, exciting, big things like this don't happen to people like us, is what we kind of think. I don't think it's sunk in. I still don't think that we get it, or believe that it happens to people like us."
The Tilghmans didn't hold anything back in Every Little Win, sharing details of their personal lives, even if it became uncomfortable at times.
"That's one way you can tell that we're telling the truth in the book, because the stories that we tell in the book are basically, for the most part, our accounts of our lives from our own perspectives," Tilghman shares. "Mainly the way that we wrote the book, because when I first even heard of it, I was like, 'I don't know.' I'll tell the truth: years and years ago, I thought I had some ideas of some things through ministry. I was like, 'Maybe I can make a book out of this.' So I started messing around, and I wrote for days and days. I printed it out, and I think it was like 15 pages.' So, I told them straightaway, 'I don't know how to write a book.'"
Instead of writing the book, the Tilghmans got creative and recorded the stories of their lives, which is how Every Little Win was largely written.
"What we did was sometimes I'll be driving down the road, going to a venue or wherever, and Brooke may be at home," Tilghman reveals. "And Tricia would either video conference us, or call us on the phone, and we would just tell her our stories."
"We told our story from the beginning, from our different perspectives," continues Brooke. "We spent a lot of time on the phone. She also researched a lot of [his] sermons. She went back on our Facebook, to see different things that we posted."
The Tilghmans didn't mind telling their stories, as long as they were honest and authentic.
"I'm very particular about … I don't mind honesty, but I also don't want anybody in the world to get the wrong idea about my attitude toward anything," Tilghman acknowledges. "And so, she did a really good job at capturing that. A huge part of our story is growing up in the church, and growing up in ministry, and some of those … that's a beautiful bush with lots of thorns. She did a very good job at  letting the world know that I did have some struggles, but that I don't blame the church. Those people were great. So she did a really good job at those kinds of things."
Every Little Win will be released on June 22. It is available for pre-order here.*
*Everything Nash has an affiliate relationship with Amazon, which means we may receive a small commission from purchases made through links on this page, at no additional cost to the authors or consumers.