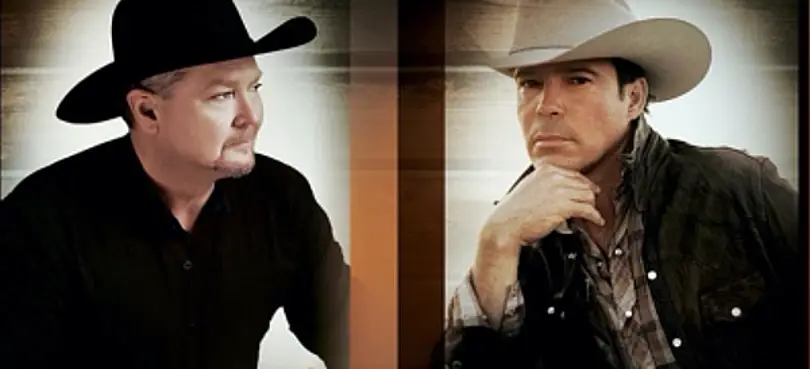 Tracy Lawrence and Clay Walker will spend part of 2022 on the road — together! The two country music hitmakers, who shared the stage for a series of shows in 2021, are once again combining their talents for one epic tour, co-headlining a run of dates, which will kick off on March 3 in Charlotte, North Carolina.
Although each fully able to sell out large arenas on their own, for both singers, it made sense — and sounded like a lot more fun — to head out on tour together.
"We've been talking about it for so long," Walker tells Everything Nash. "We've talked about this probably for 15 years, and we never did it. Finally we saw each other — I don't know where it was, probably an awards show or something — and we just looked at each other. We said, 'Let's quit talking about it. Let's just do it.'"
Lawrence and Walker began making plans for their joint co-headlining tour, before realizing that, fortunately, both of their schedules were too busy to do as many shows as they would have liked in 2021. Undeterred, they began booking shows for 2022, and hint there may be more than what is already scheduled.
"We wanted to do more of it," Lawrence admits. "Last year, we did a four-day run. We went in to do rehearsals and it really went so well that we were trying to find places to do more of it last year, but our tour schedules were slammed. We got nine of these done and there may be more as we look down the road. I think that's the plan is to try to do more of them."
Both Lawrence and Walker have had plenty of hits to fill an entire night of music. The two got strategic in how to fill one night with both of their music, while still performing their own songs that their fans have come to expect from them.
"We're merging a band," Lawrence reveals. "We're bringing about half each of production guys, and we will share the stage for a lot of it. The strategy, when we did the shows last year, was to come out and do the opening three or four numbers together, and then take turns doing two or three songs, apiece, and then wrap up the end of the night together. We've got this really cool medley that we've been talking about, paying tribute to some of our heroes that we're gonna try to work out and add into the show. It'll be us singing lyrics to each other's songs, and just working it out."
Lawrence just released the third volume, Angelina, of his three-part Hindsight 2020 project, while Walker released his latest Texas to Tennessee album. While they both have new music they are excited to perform, they understand that what the fans most want to hear are the songs that made them both famous.
"Tracy and I both have to look at it like a fan does, 'cause we're both fans of country music too," Walker says. "You know, if I could go see George Strait, I don't want to hear new stuff … Tracy and I both, we have too many hits to get done in one show, honestly, with both of us on stage, and that's a good thing. But we also have worked hard, both of us, to make a new album, and there's a lot of heart and soul that goes into that. And so we won't fill up the night with new material, but I think both of us will at least do one off of our new record."
Like Walker, whether it's their joint tour or one of his solo shows, Lawrence vows that fans will hear plenty of the songs they love, which have already been the soundtrack to their own lives for years.
"New music keeps me rejuvenated," Lawrence says. I mean, every time I get a chance to go on an album, and I put the time in to write a lot of material for it, and get my players selected, and spend time in the studio, working on all that stuff. I get excited. It lifts me back up again, even when I'm doing my show by myself … I'm still conscious of the fact that I can't do a lot of new songs, at least not back to back to back. I've gotta do some hits, slide in a new one, do some more hits, slide another new one in, and try to massage the crowd. I don't want people to get bored."
Lawrence and Walker's joint tour will kick off on March 3 in Charlotte, North Carolina. Find all of Lawrence's music and upcoming shows at TracyLawrence.com, and visit ClayWalker.com for more on Walker's music and concert dates.