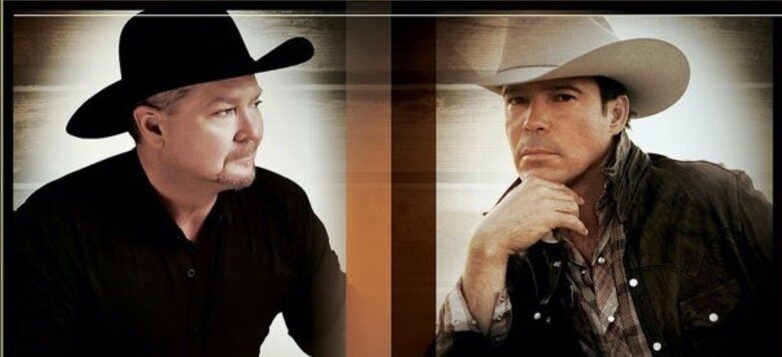 Tracy Lawrence and Clay Walker are hitting the road — together! The two will embark on a nine-date tour, kicking off in March, with both singers sharing the same band and stage for the duration of the show.
"So excited to be sharing the stage with my friend! Many years of hits between us and now we get to go out and play them together for all our fans," Lawrence says. "While we have toured together over the years, this time we decided to switch things up and share the stage and band for the entire show. No question – this is going to be a good time!"
"Tracy and I have been good friends for a lot of years and being on the same stage at the same time, singing one hit after another is one of the highlights of my career," adds Walker.
Lawrence will likely have the third and final installment of his three-part Hindsight 2020 record out by then. Volume 1: Stairway to Heaven Highway was released in April, while Volume 2: Price of Fame came out in August. The third part was also supposed to be released in 2021, but an unfortunate bout with COVID, among Lawrence and his crew, derailed those plans.
"It was scheduled to come out in November," Lawrence tells Everything Nash. "We had a COVID round out here on the road. I had four band members, two bus drivers, myself, both my kids, pretty much everything. And it spread out over about a three-week period. So we were behind. I  got the tracks down on everything, but wasn't able to get back in and get vocals done until the end of September. And that pushed our drop date back, because we fell out of our slot in the rotation with the distribution company."
See a list of their tour dates below. Tickets will go on sale beginning on December 3. More information can be found at TracyLawrence.com and ClayWalker.com.
Tracy Lawrence and Clay Walker Tour Dates:
March 3 Charlotte, NC Ovens Auditorium
March 4 Roanoke, VA Berglund Coliseum
March 5 Augusta, GA William Bell Auditorium
March 10 Charleston, WV Municipal Auditorium
March 11 Chattanooga, TN Sailors and Soldiers Memorial Auditorium
March 12 Huntsville, AL Von Braun Center
March 17 Kalamazoo, MI Wings Event Center
March 18 Milwaukee, WI The Riverside Theater
March 19 Owensboro, KY Owensboro SportsCenter