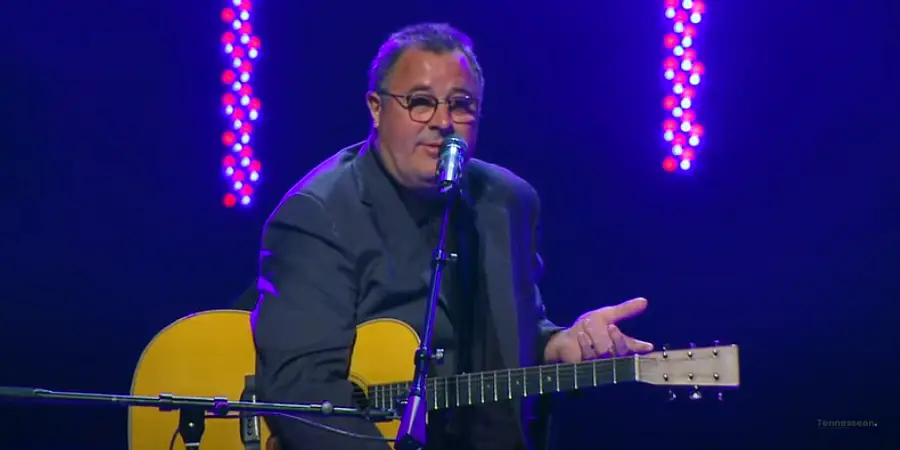 Vince Gill's "Go Rest High on That Mountain" has been sung at countless funerals over the years, including at Charlie Daniels' last year. Gill began writing the song after Keith Whitley passed away, finishing it after the death of his own brother. But the Country Music Hall of Fame member has a third verse, which has never been recorded, but he hints might happen, and soon.
"When you look back at my life and my career being musical, that'll be the one song that I'm known for," Gill tells I Miss…90s Country Radio with Nick Hoffman on Apple Music Country. "And it carries more weight in that people went to that song when they really were hurting, when they're struggling and going through the hardest part of their life, not the best part of their life. When you lose somebody that you love and you go, you want comfort. You need to feed that melancholy thing that you're going through. I had no idea I was even going to do any of that."
Ironically, "Go Rest High on That Mountain" came perilously close to not being heard, by anyone. After Gill finished it, it took some convincing from producer and label executive Tony Brown for Gill to record the emotional song.
"I wasn't even going to record it," Gill recalls. "Tony heard it and he says, 'You got to record that song.' I said, 'Boy, it's pretty sad, pretty tough.' And he said, 'No, you really need to.' And that was so [personal] to me, because it was written about my brother's passing. All that stuff was part of it. But he didn't know that 28 years later it was going to wind up having the impact that it's had on people."
"Go Rest High on That Mountain has touched countless lives, but with the new, still-unrecorded third verse, the 64-year-old hopes to touch even more.
"Not too long ago, about a year so ago, as I listened to that song, it always felt incomplete," Gill shares. "I didn't feel like the song, as a songwriter, buttoned up and ended and finished the story. It told a nice story, but it never finished it. And so I wrote a third verse, and I haven't recorded it yet, but I'd like to, just to have a version out there with the third verse. The third verse is, 'You're safely home. In the arms of Jesus, eternal life my brother's found. The day will come I know I'll see him in that sacred place on that holy ground.'"
The new third verse not only meets Gill's approval, but hit songwriter Rodney Crowell's as well, which means there is a good likelihood that others will hear the new version as well.
"Rodney told me, he said, 'Man, that was the right thing to do,'" Gill reveals. "He said, 'You were right. And then how you finished it is exactly what it needs to be.' So maybe at some point people will discover that last verse and have it be a part of it too, but that song has been… I think what I'm proudest of, it's been a gift for everybody else, more so than me. And that's a great feeling."