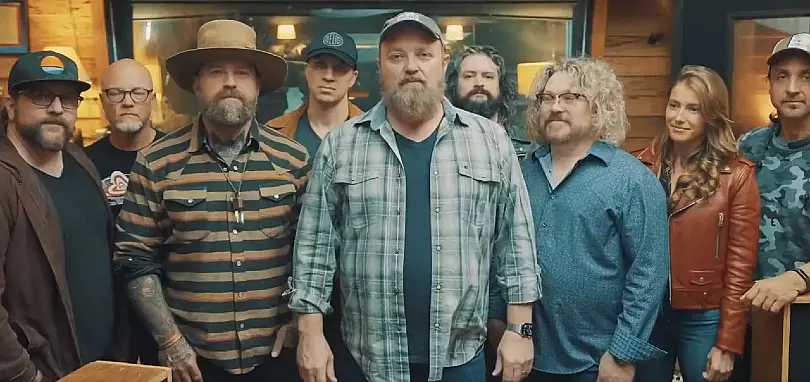 John Driskell Hopkins, one of the founding members of the Zac Brown Band, shared a heartbreaking diagnosis with fans on social media. The 51-year-old reveals that he has amyotrophic lateral sclerosis, otherwise known as ALS, a progressive disease that affects the nervous system. There is currently no cure for ALS.
"I have tough news to share, and my brothers and sister have gathered to support me," Hopkins said in a video, with all of the Zac Brown Band members, including Caroline Jones, beside him. "Over the past several years, I've noticed some balance issues and some stiffness in my hands. After careful analysis by some of the country's top neurologists, I have been diagnosed with ALS. Because my symptoms have been slow-progressing from the start, we believe they will continue to be slow progressing going forward. God willing, I plan to be rocking with these amazing people for many years to come."
"The technology surrounding ALS treatments has been advancing, but we still don't have a cure," added Brown. "Thanks so much for your prayers and support, in helping us cure ALS."
An important video announcement from our brother @johndhopkins. Let's #HopOnACure for ALS, together. Text HOP to 345-345 or visit https://t.co/Tl4rk2lR9Y to make a donation and learn more. @hoponacure pic.twitter.com/XbCdLuLAYK

— Zac Brown Band (@zacbrownband) May 20, 2022
HopOnaCure.org was created to help fund research to find a cure for the debilitating disease.
"There is no cure for ALS and no effective treatment to halt or reverse the progression of the disease," the website explains. "Currently, a severe deficit exists in this funding which is needed to identify and understand the cellular mechanisms and risk factors of ALS. By understanding the mechanisms that occur on a cellular level with ALS, scientists can identify exactly what is causing the motor neurons to degenerate which dictates the approach used in developing effective treatments.
"In order to achieve these goals, and put an end to ALS, there is a great need for funding and continued research," the statement continues. "Hop On A Cure aims to lower this deficit by funding research that will make ALS a thing of the past."
In addition to making a donation at HopOnaCure.org, fans can also purchase limited-edition t-shirts, with all proceeds going to the research efforts of Hop On a Cure.
Hopkins provides background vocals in the Zac Brown Band, and also plays multiple instruments, including guitar, ukelele and banjo. The Zac Brown Band is currently on their Out In the Middle Tour, which concludes on November 19. Find music and tour dates at ZacBrownBand.com.