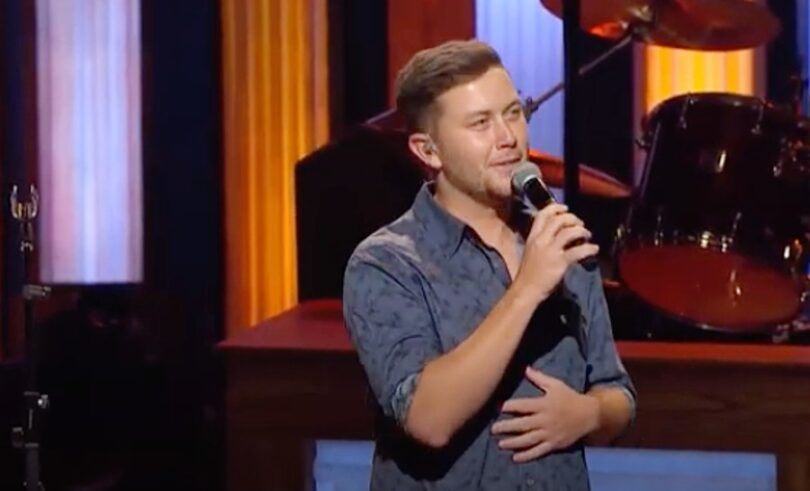 The Grand Ole Opry has served as validation for numerous country stars over the years, who count becoming a member of the hallowed institution as the pinnacle of their career. While the Opry has inducted several new and established artists in recent years, including Kelsea Ballerini, Dustin Lynch, Lady A, Carly Pearce, Lauren Alaina, Jamey Johnson and more, there are several artists who, perhaps surprisingly, have yet to officially become members. We found ten artists who deserve to be inducted.
1. Scotty McCreery
Scotty McCreery is one of the very few artists who have successfully transitioned from becoming famous on a reality TV talent show — in his case, American Idol, to a country music career. He made his debut on the Grand Ole Opry in 2011, shortly after his Idol win, and has been a frequent performer since then. Now that Alaina, his American Idol runner-up, is officially a member, his name at least deserves to be included in the list of hopeful future nominees.
2. Luke Bryan
If the Grand Ole Opry was looking for country artists who had star appeal, they need not look any further than Luke Bryan. Not only is Bryan always willing to play the Opry — and has, often — but his career is hard to top in terms of success. Bryan's superstar status could make him a Grand Ole Opry ambassador, especially if he was actually a member.
3. Tim McGraw
Like Bryan, Tim McGraw is a willing performer at the Grand Ole Opry, and has been for years. With more than three decades of making country music, it seems like McGraw is well past the window when he should have been invited.
4. Michael Ray
Michael Ray is one of the regular performers on the Grand Ole Opry stage, and has performed more than 50 times. Ray has also made no secret of his love of traditional country music.  Between his outspoken affection for country music, and his respect for the Grand Ole Opry, Ray definitely deserves to at least be considered.
"The Opry, there's no place like it," Ray told Everything Nash. "I grew up watching it with my grandfather, studying it. My biggest goal in my career is to be an Opry member, and to be a part of that family that continues the tradition of country music. I know things have to evolve and grow with time, but I think that there is a foundation of the Opry that I think needs to stay and really should be held very preciously. Because, in a lot of ways, that's the only way that some artists that paved the way for us have a stage."
5. Lee Ann Womack
How Lee Ann Womack is not a member of the Grand Ole Opry is truly baffling. The country music star has spent more than three decades making country music. Her voice, her songs, her music all seems to be the exact kind of music that the Grand Ole Opry celebrates. While we love honoring the new artists, it seems unfair that Womack is still sitting on the sidelines.
6. The Bellamy Brothers
The Bellamy Brothers, made up of Howard and David Bellamy, are true global pioneers for country music. The sibling duo has had a long, and very successful career, making music that they perform all over the world. With their dedication to country music, and their massive touring careers, the Bellamy Brothers could have rightfully been inducted years ago.
7. Ashley McBryde
When Ashley McBryde made her Opry debut, in 2017, she sang her autobiographical single, "Girl Goin' Nowhere," an emotional performance that proved how important the historic institution means to her. Almost four years after her debut, McBryde says being a member of the Grand Ole Opry is still one of her biggest professional goals.
"The Opry is one of the most important things to me in my whole career," McBryde told Everything Nash. "I've never come into the building without saying hello to Minnie Pearl. I've never left the building without saying, 'Goodnight, Minnie.' I've never stepped right into the circle. I always put a toe in first. And then I always either point down to it or reach down and touch it when I leave. It's such a sacred thing to me."
8. Justin Moore
Justin Moore has spent more than a decade releasing pure country music, without giving in to any of the latest trends or hinting at any crossover appeal. Sure, he may not be able to perform at the Opry as much as some of his peers, especially since he lives in Arkansas, but he is a true champion of country music, and deserves to be recognized for his commitment to the industry.
9. Aaron Tippin
By now most people probably assume Aaron Tippin is already a member of the Grand Ole Opry, but in spite of his numerous appearances, he actually is not. With more than 30 years in country music, and his numerous performances on the Grand Ole Opry stage, Tippin has yet to become an official member. Hopefully, it's just a case of better late than never.
10. Alabama
Alabama is one of the most successful groups, of any genre, and has been making music for more than 50 years. The trio, made up of Randy Owen, Teddy Gentry and Jeff Cook, has performed on the Opry stage, but somehow keep getting passed over when it's time to induct another artist. If there was ever a group that deserved to be a member, it's Alabama.