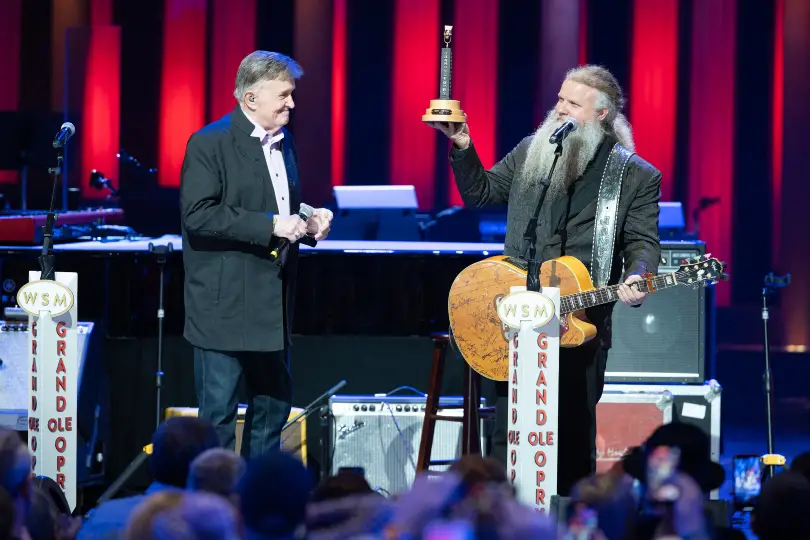 Jamey Johnson is the newest member of the  Grand Ole Opry! The singer was inducted on Saturday, May 14, by his close friend, and songwriting collaborator, Bill Anderson, fulfilling a dream Johnson held since he was a child.
"I don't have to tell y'all what this means to me," Johnson said from stage. "Y'all know me; you know I've been talking about this since I was a kid. And I ain't a kid anymore. You can tell that by the gray in my beard. I'm so thrilled to have every one of y'all here tonight to help me celebrate … I prayed for it every day."
"Well, this is proof our prayers do get answered," Anderson answered.
Prior to his induction into the Grand Ole Opry, Johnson said that being a guest of the Grand Ole Opry for the past several years was already a highlight of his life and career, even if he was never formally inducted.
"I can tell you that being a guest the past number of years has felt more like a membership to me, because there was a time where I didn't get invited to play, before anybody knew who I was," Johnson shared with Everything Nash and other outlets, during a virtual media event ahead of his induction ceremony. "Getting to play the Opry pretty much any time I wanted to, anytime I had time available, there is a membership in that; there is an ownership in that. It already feels like it's also my Grand Ole Opry.
"It's not some entity, some secret organization that I'm not welcome at," he continued. "All of the fans of the Grand Ole Opry, they've made that perfectly clear several times that I've played there, so I don't know what's gonna change as a member. I hope it doesn't, in a way. It's already been incredible."
It was Anderson who also surprised Johnson by inviting him to become a member in March.
"I don't know what to say except the obvious," Johnson said. "I love country music. I love country music. I would have never moved here if it wasn't for country music; if it wasn't for the Grand Ole Opry keeping it alive all these years, if it hadn't been for the fans, like y'all, listening to what we do," he continued, gesturing to the crowd. "Thank you. I love you. Thank you so much."