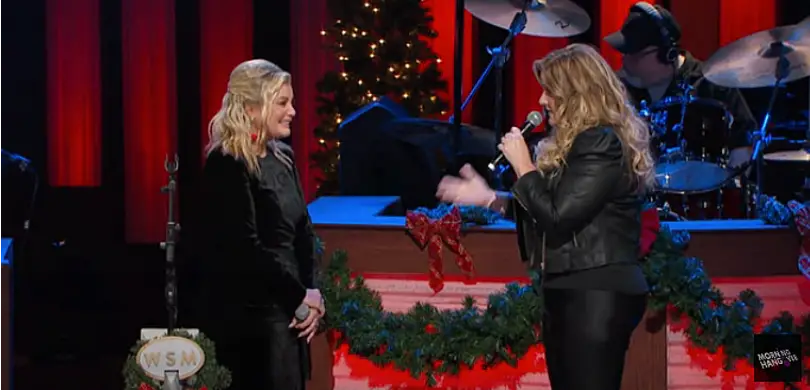 Lauren Alaina will soon be a Grand Ole Opry member! The American Idol alum was invited to join by Trisha Yearwood, while performing at the historic venue on Saturday, December 18.
The invitation began when Yearwood appeared on the video screen, wishing everyone a Merry Christmas, before she told Alaina, whom she lovingly calls "Junior," because of their similarities, that she had a present for her, and surprising her by appearing on stage.
Yearwood told Alaina that she knew her mother was in the audience, but that her father was as well, although Alaina had no idea he was there as well. Yearwood then choked up as she officially extended the invitation to Alaina to become a Grand Ole Opry member.
"I have the honor of asking you, on behalf of the Grand Ole Opry, if you would please accept our invitation to become the newest member of the Grand Ole Opry.
"The is sort of like a wedding proposal; you have to say yes," she added as Alaina sobbed on stage.
"Yes!" Alaina answered, adding, "I haven't cried like this in a really long time. I guess I needed it."
Alaina also praised Yearwood for how much she influenced her life and career.
"She is literally my hero," Alaina gushed. "If you haven't read my book — I don't care if you read the whole thing — I do, a little bit, but if you can read what she said about me in my book. I cried like this in my living room, and people didn't even get to see it … All I ever wanted was to be a member of the Grand Ole Opry. I snotted on stage."
Yearwood, who inducted Carly Pearce earlier this year, praised Alaina for how seriously she takes the hallowed institution.
"This is a very special club to be in, because you have to understand what the Opry means to be asked. It's such an honor … I was so excited for you, because I know what it means to you. Country music is in good hands with you.
Alaina, who also shared a video of her invitation on social media, later shared why the invitation meant so much to her.
I have watched this video ten times (at least) and I still can't believe it. I cry every time I watch. Thank you again to the @opry, @trishayearwood, and @tmac2. One of the most MEMBERable moments of my life. ❤️🥲 pic.twitter.com/RXigcBl7bs

— Lauren Alaina (@Lauren_Alaina) December 20, 2021
"I remember being a little girl and listening to country music and feeling like, 'This is my destiny,'" Alaina told People. "Not just country music, we listened to the Opry. The Opry is the core of country music. Everyone that's ever been anyone I could look up to played the Opry. To be in that family, I can't believe it. This is the best day of my life other than when my nieces and nephews were born."
Alaina's book, Getting Good at Being You: Learning to Love Who God Made You to Be, covers the highs and lows of Alaina's life, including her father's struggle with alcoholism and her own battle with an eating disorder.
"Part of my brand and what I've tried to accomplish with my brand is self-empowerment and empowering other people," Alaina tells Everything Nash. "I've had a lot of things happen in my life. I've been really fortunate to have people around, my friends and family that have helped me through all of these things and a therapist, and God and my faith to help me through it. What I really want to accomplish with my career is to be a light for the world, and I felt like a book would be a really good way to accomplish that.
"I try to only do projects that make sense with the music as well, that extended the music. So each chapter is named after a song of mine; some of them aren't released. I'm sure my fans are going to come after me for those songs," she adds with a laugh.
Purchase Getting Good at Being You: Learning to Love Who God Made You to Be here.*
*Everything Nash has an affiliate relationship with Amazon, which means we may receive a small commission through purchases made via links on this page, at no additional cost to the author or consumer.