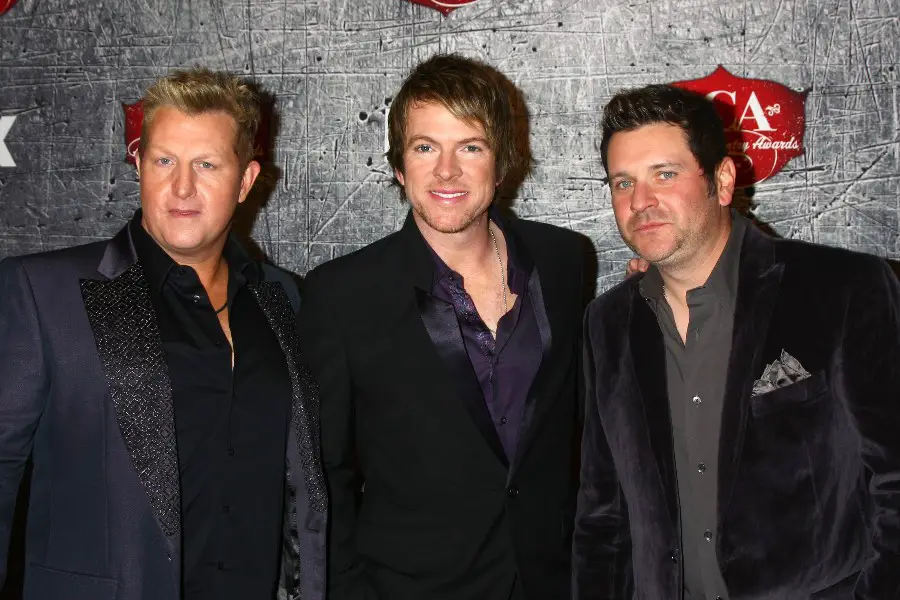 Ten years ago, on October 8, 2011, Rascal Flatts became official members of the Grand Ole Opry. The trio, made up of Gary LeVox, Jay DeMarcus and Joe Don Rooney, were officially inducted by Little Jimmy Dickens, 11 years after they made their Grand Ole Opry debut.
The Flatts were inducted as part of the Grand Ole Opry's 86th birthday bash.
"It is so humbling to carry the Opry flag," LeVox said. "There's no higher pinnacle."
The threesome were surprised during their induction by a video message by President George W. Bush.
"We are big fans of Gary, Jay, and Joe Don," Bush said of him and his wife, Laura Bush. "We love their music, and we also love their compassion and generosity. Throughout their success, Rascal Flatts have given back to their community and to our country by supporting the Make A Wish Foundation, Vanderbilt Children's Hospital, and the American Red Cross. I am especially proud of their efforts to honor the men and women of our armed forces, and the heroes who are wounded on the front lines. So thanks for your example of excellence and patriotism. And congratulations as well as a hardy welcome to the Opry."
Rascal Flatts were invited to join by Vince Gill, who joined them on stage after they sang their big hit, "Bless the Broken Road." After teasing that they owed him $500 for a golf game, Gill issued the official invitation to become Grand Ole Opry members.
"You would think that after hit record after hit record and millions of records sold, they'd come up with the five hundred bucks, but nooooooo!" Gill teased, before adding, "I am here gratefully and gladly to invite you guys to be the next members of the Grand Ole Opry."
"You know, we've gotten to do a lot of amazing things in our career like going to Iraq and visiting our soldiers, selling out arenas, and doing a lot of magnificent things that … you can't even dream that big," LeVox said after accepting the invitation to join. "But all three of us grew up listening to the Opry: Jay with his grandfather, me with my grandmother, and Joe Don with his entire family. You can't even put into words what this means to us. When we first signed our record deal in 1999, our main goal was to play the Grand Ole Opry and someday be members of the Grand Ole Opry."
Rascal Flatts were supposed to embark on their farewell Life Is a Highway Tour in 2020, which had to be canceled because of the pandemic, and it seems uncertain if they will reschedule it for another time.
"We really don't," DeMarcus told WKKG, when asked if he had any idea when they would reschedule the tour. "There's no timeline for immediately getting back out there and doing that farewell tour. There are so many things scheduled that were planned out. Gary [LeVox] had a couple of solo releases that he wanted to put out. I opened this record label that I was going to really spend a lot of time totally immersing myself in there and launching some new artists, and so, we've made other commitments that were a little tough to back out of this year.
"Obviously, this isn't the way we wanted to lay this thing down," he continues. "We will. At some point, the time will be right for us to get back together and go back out and love on our fans, and give a proper goodbye like we wanted to."